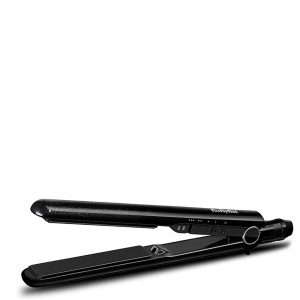 The classic hair straighteners has been slowly becoming the thing of the past. Their place is replaced by modern models. One of them is the ultrasound hair straightener BaByliss ST480E. Thanks to this tool, your hair can become smooth, straight and moistened.
What Is so Exceptional About the New Hair Straightener by BaByliss?
First, the device has inbuilt a special generator that creates ultrasounds. This, in turn, produces a moistening mist that is additionally illuminated by diodes placed in the heat-generating plates. Secondly, the hair straightener features a small comb-like teeth facilitating hair detangling. BaByliss ST480E has a metal chassis and Diamond Ceramic layer. Moreover, the item goes with ion conditioning and curl making functions. What might amaze, BaByliss ST480E needs just a half of a minute to get its temperature risen to 180°C, but the device can go more than that reaching 230°C. You can see all the setting on the led screen. The complete hair straightener set also contains a carrying case and a heat-insulating mat.
What Effect Can You Expect After Using BaByliss ST480E Hair Straightener?
Your hair is going to be either perfectly smooth and straight, or curly and wavy. The hair straightener is designed for all hair types. The diamond layer provides both protection to the strands and moistening. You'll obtain the effect of straight hair just by running the device through your hair once. Thanks to this, you'll save time and keep your hair away from being exposed to the high temperature for long (you'll avoid causing damages to the strands). The final effect is comparable with the one obtained at a hairdresser's. If you want your hair to always remain beautiful and shiny, remember to apply a heat protection cosmetic before every single use of BaByliss ST480E. Once your hair is finally straight, follow with a gloss-delivering hair oil.
A Few Versions to Suit Everybody's Taste
Ultrasound hair straightener BaByliss ST480E is a professional hairdresser's tool. There is already a upgraded version available, of a slightly different design, but carrying the same features. In general, BaByliss also offers a regular, a steam and a compact hair straighteners. If you're a real hair maniac, then surely you'll find a tool that suits your taste.