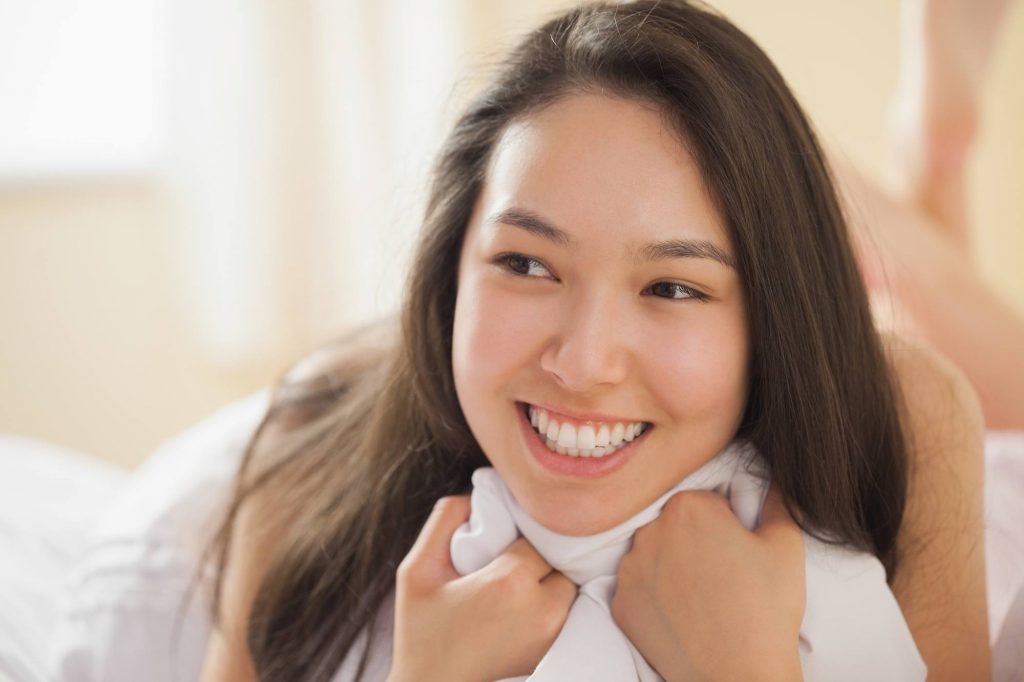 If you for some reason can't leave home but you see that your hair and skin are begging for some nourishment, you should consider giving some in-home beauty treatments a go. How to be successful in improving looks without beautician's help?
Undoubtedly, advanced cosmetology is a huge convenience and a way that offers various possibilities of carrying out personal care treatments. Fortunately, we don't have to bother about wrinkles and passing time because the beautifying treatments help us preserve youthful look for longer.
However, not every women can afford to visit a professional salon on a regular basis. There are also some periods in our lives that we simply can't leave home to get manicure, pedicure or make-up done. What then?
How to improve your looks without leaving home?
It's worth realizing that there are plenty of in-home cosmetic procedures that make an effective replacement for many professional beauty treatments. Frequently, it also happens that such in-home beauty treatments give similar (or sometimes even better) results. When the possibilities are limited, the choice is simple.
There are also those who consider home beauty treatments as far better than the ones offered in professional salons. The same people make use of them even when they have time to visit a beautician. Those people emphasize that such in-home cosmetic procedures are like re-connection with nature and return to old personal care practices – practices that take advantage of natural substances and techniques known and applied in old beauty rituals.
[DIY] Home beauty treatments
What can you do to improve your face, hair and body without leaving home? Here are the best home beauty treatments which effectiveness will leave you amazed.
1. Intensive hair oil treatment + hair steaming
Hair seems to be a body part that suffers the most when not exposed to any beauty treatment for a while. What should you do when the hair lacks shine, gets frizzy and becomes brittle but we can't make use of professional hair treatments like Olaplex? The answer is hair steaming with natural oils, which is an intensive hair oil treatment.
How to carry out this cosmetic procedure?
You have to start with shampooing and rinsing the hair thoroughly. Then, you have to apply a chosen natural oil. Don't skip the scalp! Also, apply doubled portion to hair ends. Once your strands and scalp are covered with a natural oil, tie them up and apply a foil cap. Then wrap your head with a warm towel that should be warmed up every few minutes. You can remove the towel after 30 minutes and wash the hair. That's all!
2. Steam facial + charcoal mask: Home face cleansing
Our face skin is equally prone to lose vitality as our hair is. Without professional cleansing, face may become rough, dry and dull. Therefore, if you want to minimize the risk of acne and irritations, you should cleanse your face at home regularly. How to do it? Try using active charcoal mask and reach for steam facial.
How to carry out this cosmetic procedure?
Firstly, you have to dilate your skin pores to make it easier to unclog them. Take a bowl and fill it with hot water, throw some herbs and pour essential oils, e.g. rosemary. Then, place your face above the steaming water, put a towel on your head and wait a while. Approximately 10-15 minutes suffice to open the skin pores and make the skin ready for the upcoming treatment. Now you can treat it with homemade charcoal face mask, which is crumbled activated charcoal mixed with a chosen oil (e.g. argan). Let it sit for 15 minutes so it can cleanse skin deeply. Finally, you can remove the mask by rinsing the face. It's a good idea to perform a massage at this stage. Also, you should follow with a face cream.
3. Home hand soak with olive oil
It's also a good idea to take care of nails and hands that when left without any help will be fast to become rough and irritated. Actually, you don't have to wear manicure to get nice-looking hands! Just do home hand soak – you can use olive oil or any other oil of your choice. This home beauty treatment is a great way to strengthen nails as well as nourish and smooth skin out.
How to carry out this cosmetic procedure?
First, you have to warm up some natural oil – check whether the oil is warm but not too hot because you don't want to hurt yourself. Make sure that the amount of oil is enough for you to hide the hands in it. If you want to enrich your hand soak, you can add half lemon juice to the bowl. Keep the hands in the oil for 10-15 minutes and then towel dry them.
4. Anti-cellulite massage with DIY coffee scrub
You should also make use of some body treatment. After all, with age skin loses resilience and gets flabby if you don't take the good care of it. Luckily, you don't need any fancy in-salon treatments because cellulite can be also fought back due to some home treatments. The best here is DIY coffee body scrub that is based on a natural oil, e.g. argan, almond, jojoba or coconut.
How to carry out this cosmetic procedure?
Preparing coffee body scrub isn't difficult. Combine 2-3 spoons of a chosen oil with a portion of freshly grounded coffee beans. Such body scrub has to be rubbed into skin after leaving a shower or bath. Keep massaging the scrub for a few minutes. Rinse.