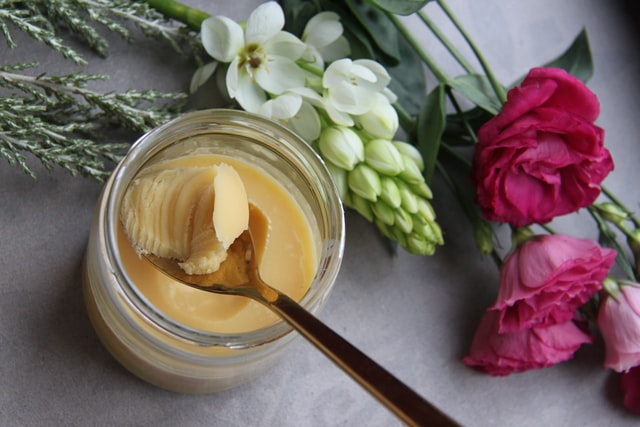 Shea butter is extracted from the nuts of the shea tree. It has a delicate scent, yellow or brown colour and solid consistency. It melts and turns into a fluid in contact with the skin or high temperature. It is valued in cosmetics because of its ingredients that improve the condition of the skin and hair. Shea butter should be kept in tightly closed containers, far from the light, air and dampness.
Shea butter is rich in saturated and unsaturated fatty acids, allantoin, vitamins A, E, F, natural UV filter and antioxidants. It has very good moisturising and conditioning properties, soothes irritation, protects from the sunlight, minus temperature, free radicals and other harmful external factors. It prevents the occurrence of dandruff, controls sebaceous glands and reduces sebum secretion. Shea butter regenerates split hair ends, keeps the scalp fresh, smooths, adds gloss, making your hairdo look impressive.
You will achieve better effects if you use the combination of shea butter with other oils or hair care products. Remember you must use it regularly to enjoy amazing results.
If you really dream of healthy and beautiful hair, check the benefits of products containing shea butter. You will read about some interesting cosmetics designed for hair and scalp below. They influence both the external and internal hair structure. What is more, they affect the scalp and bulbs in a positive way. Which products will be the best ones? Check our choices.
Nanoil For Low Porosity Hair.
Nanoil with vegetable oils and shea butter is recommended for dull, dehydrated and distressed hair. Thanks to the lightweight consistency, the oil is easy-to-apply, quickly absorbed and leaves the strands fresh and elastic. Check if Nanoil hair oil with shea butter is going to appeal to you.
Nanoil hair oil intensively moisturises the hair. It fights frizz and static, smooths hair surface thus delivers a natural shine. Thanks to shea butter, the product makes combing easier, speeds up blow-drying and facilitates hairstyling. Nanoil hair oil protects the hair from free radicals, UV radiation, air pollution and other damaging external factors. The product repairs split hair tips thus prevents damage caused by improper hair care or unsuitable cosmetics.
How to use Nanoil with shea butter to see satisfactory effects? Apply it before and after every hair wash or blow-dry routine. You can apply it directly to the scalp or to hair ends only. Nanoil hair oil works great in a daily hair care or when you add it to a hair mask or conditioner.
Isana Hair Oil-Care Express Spulung.
Isana Hair Oil-Care Express Spulung works for dry and damaged hair and normal scalp. It comes in a 200 ml bottle in form of a spray. It is a bi-phase product. Its main component is shea butter that is enhanced by other vegetable oils.
What are the benefits of Isana Hair Oil-Care Express Spulung? The cosmetic provides the hair and scalp with lots of vitamins, minerals and fatty acids. Shea butter, included in the product, prevents dehydration, static and frizz. It delivers bounce, radiance and smoothness, stops brittleness and breakage. What is more, it facilitates brushing, shields from the sunlight, free radicals, detergents and salty water. Isana Hair Oil-Care Express Spulung has a delicate and nice aroma that lingers on your hair for a long time.
Two versions of the product are available: 100 ml and 250 ml. The form of the mist covers each strand. After the application of the oil with shea butter, comb the strands and let them air-dry.
BingoSpa Hair Mask With Shea Butter.
BingoSpa Mask With Shea Butter is intended for normal, dry and damaged hair. It comes in a 500 ml jar. It has a rich consistency that must be warmed up between the palms before applying. Check the application and the effects of the product.
BingoSpa Hair Mask With Shea Butter reinforces and regenerates. It gives lots of nutrients to your hair and scalp. Thanks to the regular treatment, your hair will be repaired from the roots to the ends. Shea butter smooths and softens the strands, makes the hair easy to comb and style. BingoSpa Hair Mask With Shea Butter protects from UV radiation, chemical and mechanical damage.
How to apply BingoSpa Hair Mask With Shea Butter? Work it through clean and damp hair, spread evenly and massage into the scalp. After more or less 10 minutes, rinse the scalp thoroughly with warm water. If you want the product to bring the effects, use it for about two months. Apply BingoSpa Mask once a week and you will surely see the improvement in the condition of your hair and scalp.