Oil from Fructis draws attention with its bottle, that has colour and shape resembling a drop of natural oil. It looks really aesthetic and – in all its simplicity – very original. There is no doubt as to what is the base and main ingredient of the product. Natural oils are invaluable in both skin and hair care. For this reason, more and more cosmetics have their composition based on oils properties.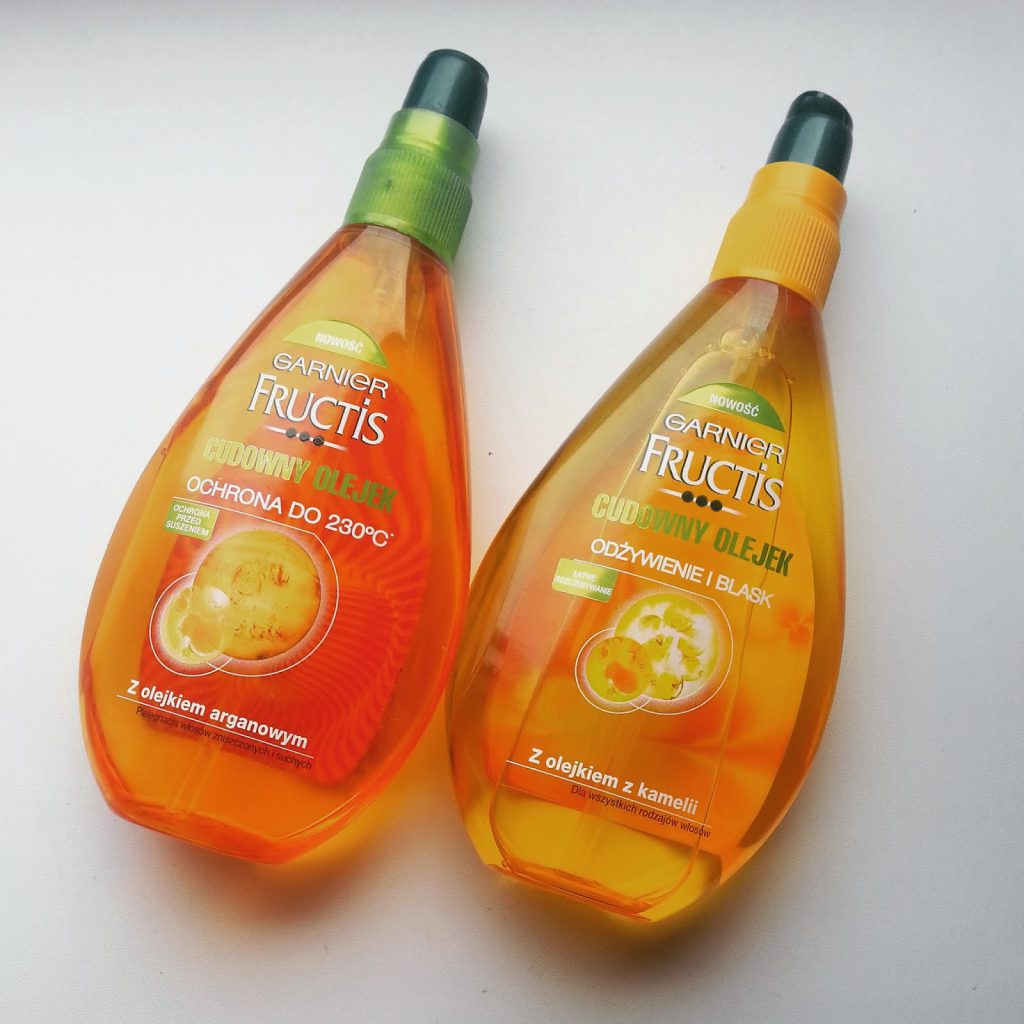 Marvellous oil for nourishment and gloss from Fructis can praise with its high concentration of natural oils. It's very encouraging, especially because Fructis has in its offer products that contain a trace amount of natural essential oils. This cosmetic consists of two oils of the highest quality: argan oil and camellia oil. These are very valued natural oils and there are many people who are more than keen on use of them in hair regeneration.
Argan oil is also called "liquid gold of Morocco". Used on hair creates protective layer against harmful impact of unfavourable atmospheric factors, but fall in love with it will also all women who often use straightener or blow dryer. Argan oil works like a protective shield against all damages. On top of that, it will take care of hair ends and prevent split ends.
Camellia oil comes from Japan. Local women for centuries use it in hair care. It is quite exceptional mostly because of content of squalane, which is an ingredient of human sebum. Squalane balances action of our sebum: limits oily scalp or moisturises really dry hair. Camellia oil has regenerative properties supported by vitamins A, B, E.
Natural oils are rich in essential fatty acids. They support processes in cells and block unfavourable changes leading to hair and scalp damage.
It is great that the miraculous oil nourishment and glow contains trace amounts of alcohol. This makes it, oil of highest quality and trustworthy product that takes care of health and regeneration of hair without causing dryness. Another good news is that oil has large volume (150 ml/5.1 oz). Applicator in form of pump makes dosage easier and oil itself holds plenty uses: on dry hair before hair wash, on wet hair as a leave-in conditioner or as a nourishing support for hair during stylisation. Furthermore, oil applied on dry hair in great way provides gloss and makes hair easier in stylisation and they look more appealing. Great job, Garnier!