It takes skin 28 days to fully recover. It works to repair itself, striving for health. Unfortunately, it can't do much when it's tired, needs sleep and lacks oxygen. Because of us taking wrong care of it, our skin has to fight lots of problems at the same time. Give it some relief and follow skin care routine that aids the skin instead of preventing its repair. Gift a flawless serum to your face – make use of the power of aloe and white tea. If you use antiaging and skin-healing serum from Nanoil, your skin is in safe hands.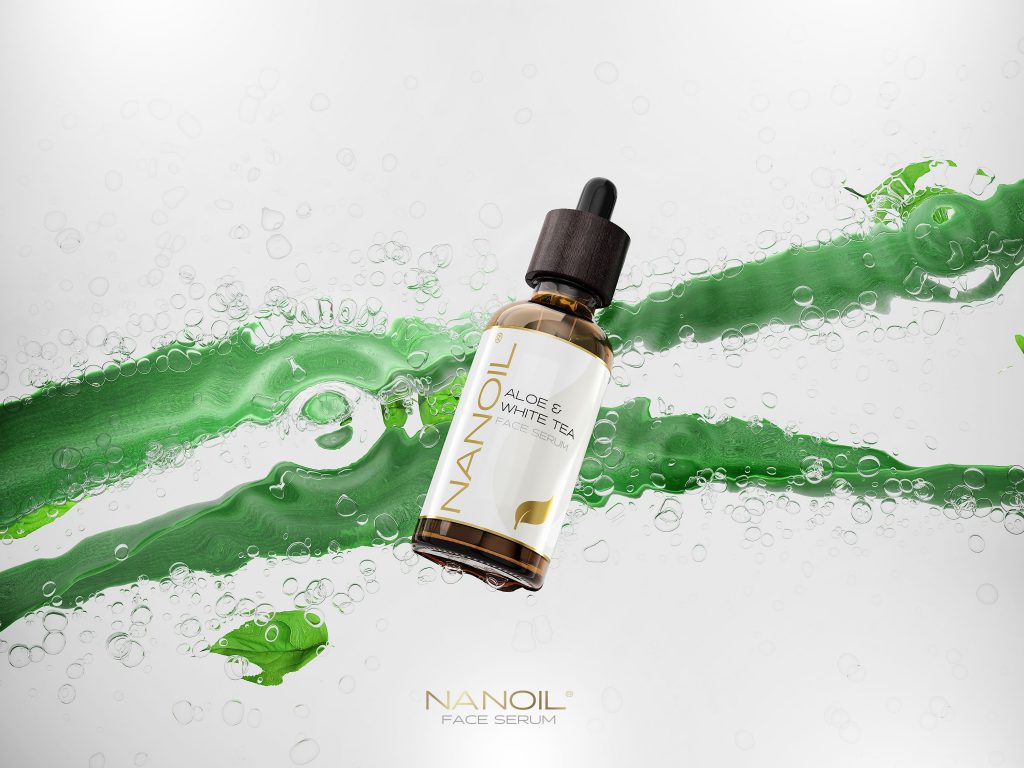 What causes skin damage?
solar radiation
air-conditioning
toxins in the air
coffee, cigarettes, alcohol
stress
medication
incorrect daily skin care
How can you improve the condition of your skin?
You can't eliminate some of the harmful factors. For example, you can't stop taking medication that makes your skin worse. On the other hand, you are the one who takes decisions as far as skin care products go. You should give your skin a customized product ideally suited to your own skin type. A good face serum is currently the most important skin-care product.
Nanoil Aloe & White Tea Face Serum equals strong antioxidants, an ideal portion of hydration and relaxation for your face. Don't let your skin age too quickly. Reach for a serum that features skin-soothing, repairing aloe and antiaging white tea. This serum starts caring for your skin once you apply it for the first time.
Nanoil Aloe & White Tea Face Serum – indications
It works for all skin types and ages, including tired, lifeless skin as well as sensitive, reactive skins. The product is vegan- and vegetarian-friendly.
Nanoil Aloe & White Tea Face Serum – purpose, usage
Nanoil Serum rich in aloe and white tea is a perfect, daily care product enhancing your skin. You can use it as usual before a moisturizer (the strongest effect) or choose one of the following ways:
use the serum as a makeup primer (lightweight, no piling)
add it to a moisturizer
mix it with foundation
use it as a lip makeup primer

Nanoil Aloe & White Tea Face Serum – effects
It keeps skin from sagging, tightens, adds plumpness.
It shields from the blue light (HEV).
It perfectly moisturizes, prevents loss of water.
It relaxes, illuminates and calms the skin.
It revitalizes the epidermis and smoothes wrinkles.
It soothes and enhances healing.
It makes skin smooth, strengthens skin's defensive mechanisms.
It protects skin no matter the conditions.
Act now! Take matters into your own hands – don't wait until it's too late for preventive steps! Reach for the serum that heals and prevents premature skin aging and damage. Nanoil is a face serum that loves your skin!