Is your skin crying for help? Does it look sallow and dull? Have you noticed first face lines? Don't leave it alone! Reach out for a vitamin C face serum – a highly-concentrated skin enhancer. It's going to help but there's one condition: choose the best formula and show off healthy, young-looking skin!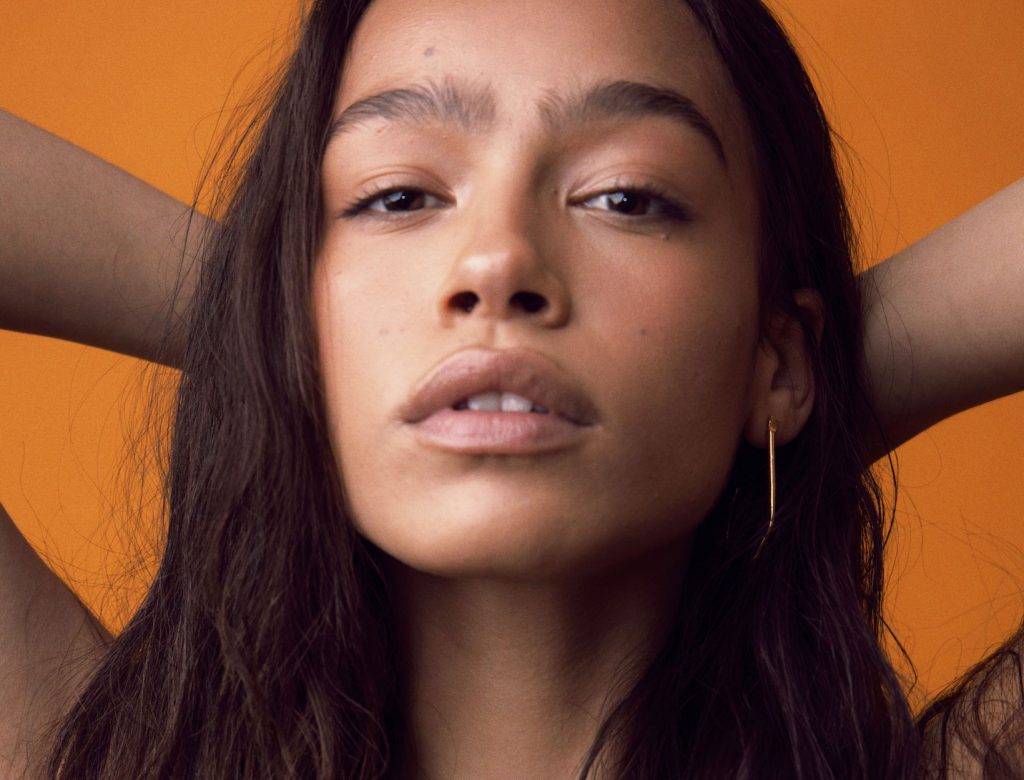 The recipe for everlasting young flawless skin is easy. A product rich in essential nutrients is the secret. Vitamin C (aka ascorbic acid) is one of the key substances whose antioxidant and antiaging effect is priceless. Applying products with vit. C noticeably improves the skin and lets you keep the young looks for longer. What's good to know about the uses and benefits of ascorbic acid?
Vitamin C: Skin Benefits
Currently, vitamin C is more common in beauty products than supplements for boosting immunity. It's no longer merely a cold remedy. Its beauty benefits are appreciated more and more often. Vitamin C is a really great skin enhancer which:
improves skin's density and elasticity.
makes pigmentation marks less noticeable giving an even skin tone.
has antaging effect and reduces fine lines.
minimizes inflammation and protects the skin.
aids acne-prone and couperose skin.
brings back healthy shine and revitalizes.
Vitamin C skin-care products
Vitamin C supplements aren't enough to give visible skin benefits. Skin-care products featuring ascorbic acid bring the best results. If you apply them daily, you deliver essential ingredients for repair, revitalization and rejuvenation. There's a wide choice of products but vitamin-rich face serum is surely the best – the formula has the highest concentration of ingredients and holds the biggest amount of powerful ascorbic acid giving us great benefits.
Unfortunately, pure vitamin C isn't stable enough. It's water-soluble but it reacts to external factors. To make the vitamin preserve its properties and penetrate the dermis, stabilized derivatives are used – fat-soluble vitamin C, for example ethyl ascorbic acid.
What vitamin C serum to pick?
Here are products you should know about if you want to incorporate vitamin C into the daily skin-care routine. The cosmetics containing the best forms of ascorbic acid and getting the highest ratings. Which vitamin C serum will you choose? See users' top picks!
No 1 Vitamin C Face Serum
Nanoil Vitamin C Face Serum (50ml/1.69oz)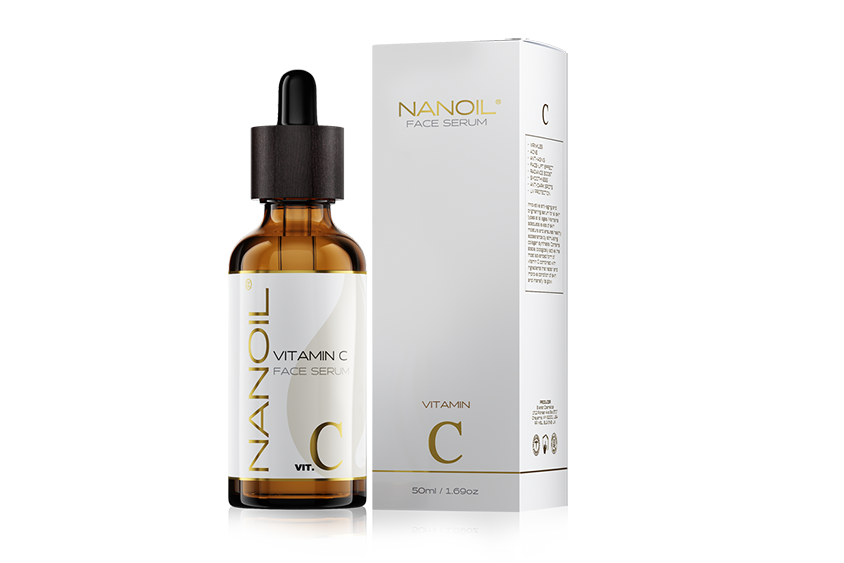 Without doubts, this is the best serum with vitamin C and you can easily get it online for an affordable price. It has a slightly bigger size than most serums and it's truly lightweight. The Nanoil Vitamin C Face Serum is runny and absorbed as soon as you apply it – the serum works inside the skin and you can use it both AM and PM. It contains the most stable form of vit. C which gives better results thanks to Punarnava root extract – a really strong antioxidant infused into the formula. This vegan, natural product can be used on any skin but it's the bestseller among users who want to banish first wrinkles, dark spots and dull-looking skin.
The Nanoil Vitamin C Serum – if used on a regular basis – brightens dark spots, makes skin glow, minimizes acne spots, strengthens capillaries that break easily, smoothes wrinkles, evens the skin tone and makes the face look way way younger. Thanks to a high concentration of vitamin C the serum also protects from the sunlight and free radicals, therefore, it staves off premature wrinkles and age spots.
No 2 Vitamin C Face Serum
Sesderma C-VIT Liposomal Serum (30 ml/1oz)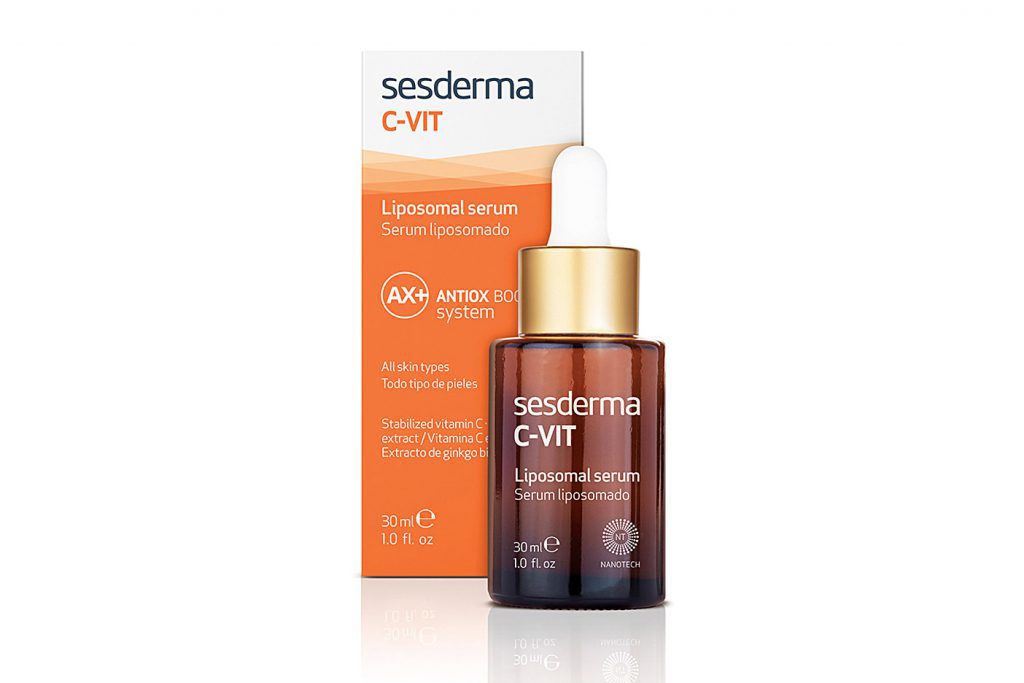 Similarly to no 1, the Sesderma C-VIT Serum is a best-seller. This liposomal face serum is based on stable form of vitamin C in nanosomes that let the ingredient reach the dermis, giving better results. This gel-like, slightly thicker formula takes more time to penetrate the skin than the top pick in the ranking. Plus, it's likely to leave a greasy feel. Nevertheless, it can be used both AM and PM to intensify daily skin care.
We should run through the ingredients. Apart from the major substance, the Sesderma Liposomal Serum includes ginkgo and mulberry extract, and hyaluronic acid. The selection of components effectively nourishes, revitalizes and protects the skin e.g. against the oxidation. Unfortunately, the formula is overloaded by substances and surely it would be a better serum without some of them.
No 3 Vitamin C Face Serum
Lumene Nordic C Valo Glow Boost Essence (30 ml/1oz)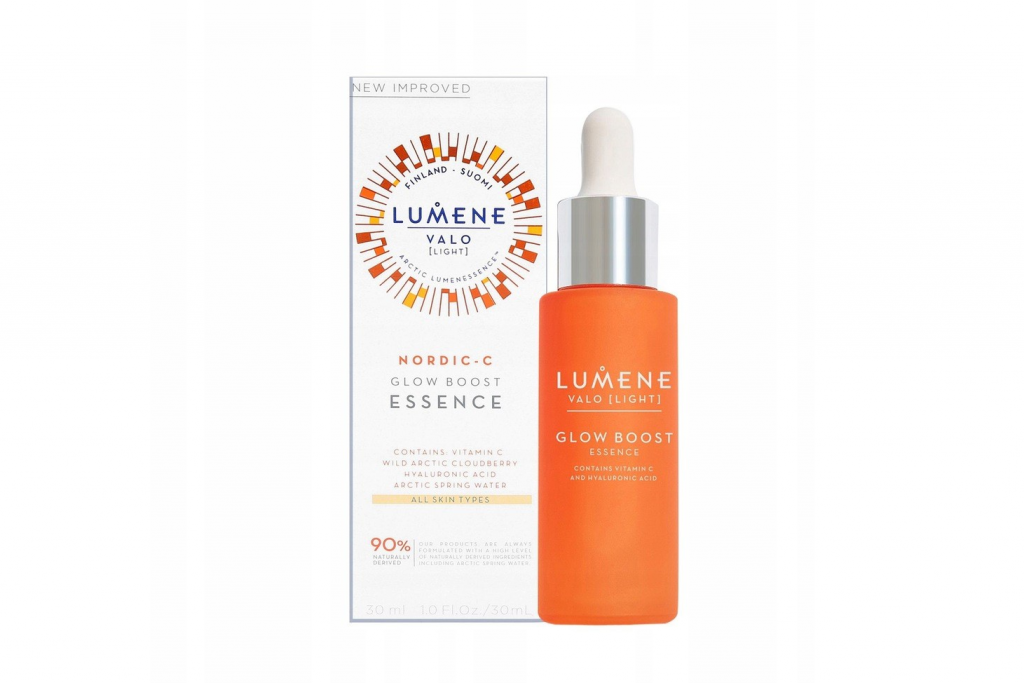 The third position belongs to Lumene Nordic C Valo Glow Boost Essence. The product has an eye-catching intense-orange bottle which holds skin-conditioning oil-serum rich in castor oil, for example. The formula cares for the skin but it may prove too heavy e.g. for greasy skin. The major components include Wild Arctic Cloudberry (one of the richest sources of vitamin C), Hyaluronic Acid and Arctic Spring Water. Of course, there are more substances in this natural, cruelty-free formula. Still, it must be noted that Lumene Nordic C Valo Glow Boost Essence isn't the most effective product rich in vit. C. It can be used on any skin because it illuminates, revitalizes and prevents premature skin aging but it fails to banish the most visible blemishes such as wrinkles or dark spots. Considering the high price, it seems unfair.
No 4 Vitamin C Face Serum
Mario Badescu Skin Care Vitamin C Serum (29 ml/1oz)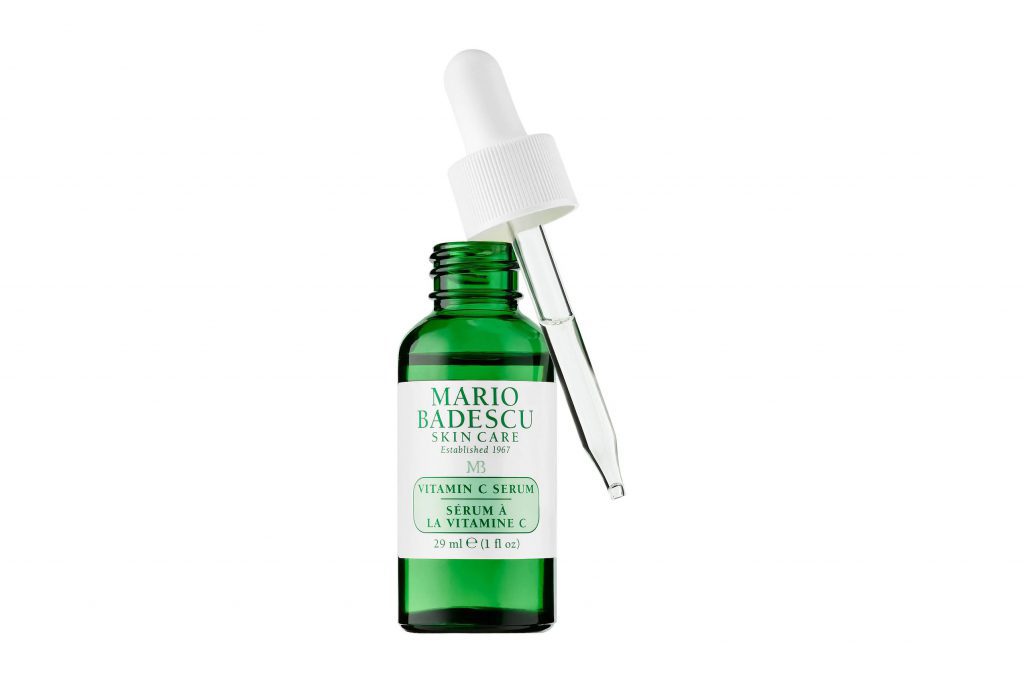 One of the priciest vitamin C face serum in our brief roundup has a quite unusual size. The manufacturers say that this hydrating serum is dedicated for any skin type and is based on three ingredients: Vitamin C, Collagen and Sodium Hyaluronate. They complement each other creating a serum that gives the glow, evens out the skin tone and lessens the signs of aging on the face. This is a good product if your skin looks dull, sallow and lifeless. Still, it doesn't have a strong antiaging effect like the previous products.
No 5 Vitamin C Face Serum
Fresh Vitamin Nectar Glow Juice Face Serum (15 ml/0.5oz)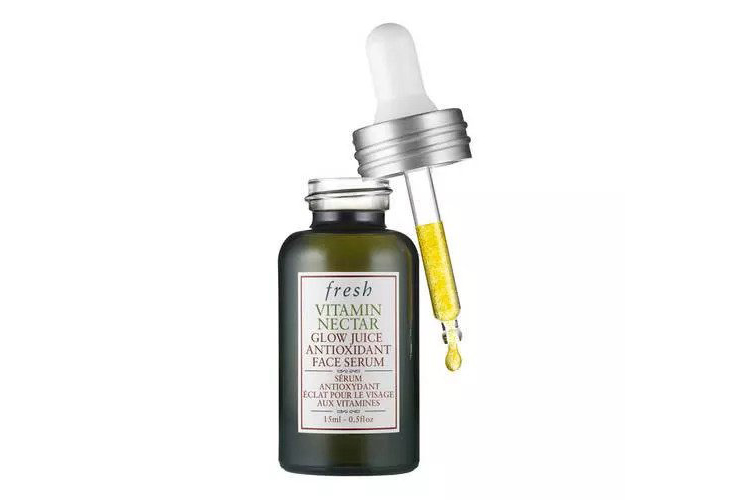 A treat for fans of vitamin-spiked skin care: Fresh Vitamin Nectar Glow Juice Face Serum. The duo of vitamin C and E plays the key role in the formula – thanks to them each drop of the serum is like a vitamin bomb for the skin. Interestingly, the manufacturers found inspiration in a freshly-squeezed juice – highly-concentrated and strongly-nourishing. They put the following ingredients into the formula: vitamin C, vitamin E, beta-carotene, coconut oil, fruit extracts and minerals. The list of components is very long and the formula has microbubbles that deliver the ingredients into the dermis. It's all aimed at illuminating, nourishing and smoothing the skin after just one use and keeping the effect throughout the day. It's a pity that this nice effect costs so much.
No 6 Vitamin C Face Serum
Kylie Skin by Kylie Jenner Vitamin C Serum (20 ml/0.68oz)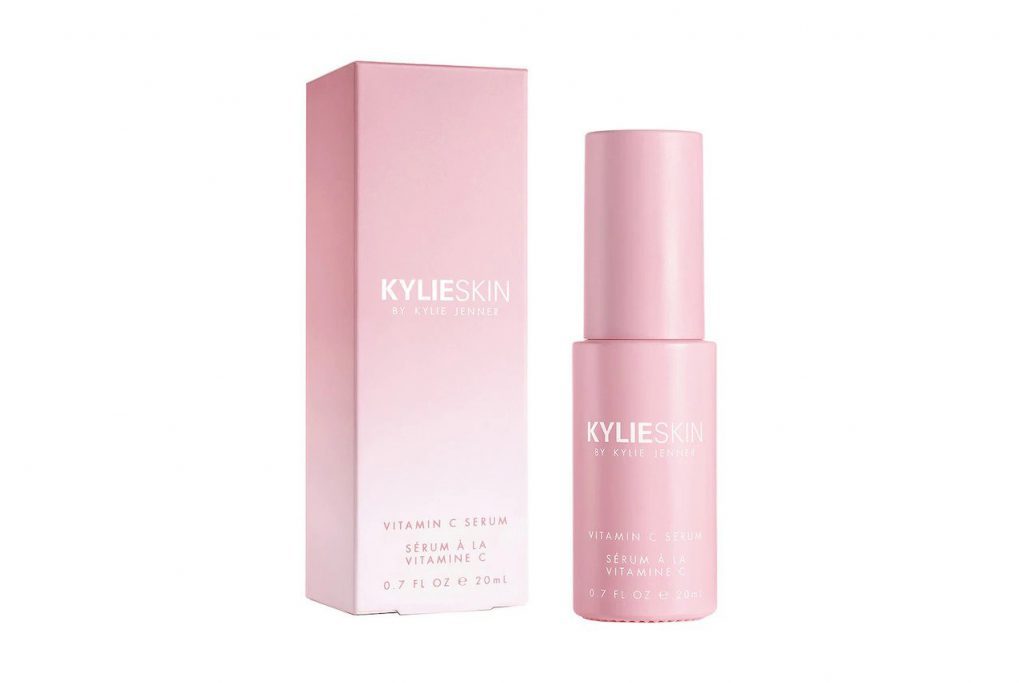 It turns out that even Kylie Jenner made a face serum feat. vitamin C. Even though it doesn't look like her other serums at all (it comes in a pink vial with a large cap), it holds similar ingredients and is based on stable form of vitamin C which makes the Kylie Skin Serum brighten dark spots and smooth the skin tone.
The formula is enriched with glycerin, safflower oil and camellia extract. These extra substances aid in keeping the optimal hydration, restoring balance and protecting against oxidation (it's common knowledge that oxidative stress is one of the major causes of premature aging). The Kylie Skin Vitamin C Serum can be applied both AM and PM, and it's one of the best oxidation-banishing serums but it's also one of the pricest products.
No 7 Vitamin C Face Serum
Paese Serum Vitamin C 10% (15 ml/0.5oz)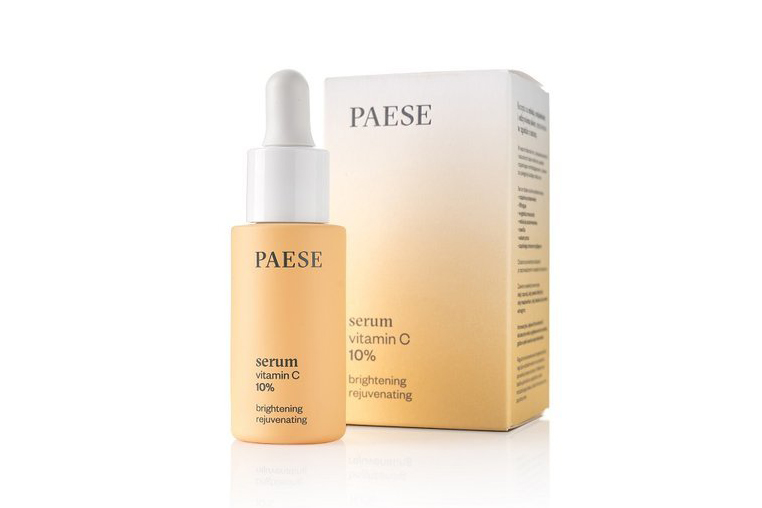 Last of all, a mid-range, vitamin-based oil-serum from Paese. As the name suggests, the product is based on 10% ascorbic acid. The vitamin is blended with oils including Barbary Fig Oil, Wild Rose Oil, Baobab Oil, Grapeseed Oil and Meadowfoam Seed Oil. Even though there are so many ingredients, the serum works well for any skin.
What effect does the regular use of the Paese Serum give? Radiance, elasticity, brighter face and less noticeable fine lines. Unfortunately, to get the results, you need lengthy treatment – the small-sized bottle doesn't make this task easier.