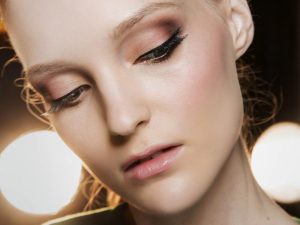 Mineral cosmetics are really popular nowadays. A few years ago, they used to be applied only either by people who had undergone invasive beauty treatments or those with hypersensitive skin type. Today, more and more people appreciate and reach for mineral cosmetics because of their composition, healing properties and incredible make-up effects. One of the finest mineral colour cosmetics is foundation. It enables to hide all skin blemishes and create really natural-looking effect of face since it doesn't overburden skin and is non-comedogenic. How to apply mineral foundation to achieve perfect makeup and boast about flawless complexion?
Makeup done with mineral cosmetics – Before you apply it
Before you put on a chosen mineral foundation, better prepare your skin well first. It must be realized that not all face creams are designed to be combined with minerals. In fact, it's just the matter of experience. To clarify, you simply have to check how your mineral foundation behaves when applied to the face treated with your favorite cream. Obviously, in most cases, there is no problem with that, however, it may happen that when you apply the foundation too fast, so when you don't allow the face cream to absorb fully, then you may expect blemishing foundation marks to appear on your face.
That's important!
Due to their untypical consistency, mineral cosmetics tend to flake off, thus application of this type of products requires skills. The primal rule is not to put a brush into the jar with the cosmetic. Otherwise, this big and fluffy applicator collects too much of the powder. As a consequence, you will waste the product and do highly unprofessional makeup.
In short, just a small amount of the powder should be poured into the lid so you can use a brush to pick it up. Remember to dab the excess of powder off by hitting the brush against the lid edge a few times. Otherwise, you might create blemishing smudges. For that reason, it's better to apply a few sheer layers of the powder instead of putting on too much of it.
Also, it's suggested pouring into the lid really small amount of the powder as mineral cosmetics are incredibly efficient. As mentioned above, it's definitely better to apply a few sheer layers, grade the coverage instead of creating one thick layer. By applying this technique, you will obtain this looked-for effect of natural makeup.
Makeup done with mineral cosmetics – How to apply a foundation?
Obviously, choosing the right shade is crucial. Do it by applying small amount of a foundation to your jowl line.
Before you apply a mineral foundation, the right brush must be selected. Actually, there are two brushes to choose from: flat top and kabuki. Each of them allows you to create a different makeup effect. To demonstrate, flat top allows to obtain stronger coverage because it applies greater amount of the cosmetic and builds in skin better due to its thick bristle. Kabuki brush, on the other hand, is rounded and the bristle is more loose. These features make the brush soft and gentle in action which should suit people with sensitive skin (although it's made of synthetic bristle).
When your skin has a tendency to get oily fast and if you like long-wear and matte effect, you should go for applying a thin layer of a transparent powder.
What's important, mineral foundation shouldn't be poured onto face, neither patted not stamped, but rubbed into complexion using circular motions. Only then can it either 'stick' to the cream that has been applied to face or mix with sebum that naturally covers our faces. Start spreading the foundation from the cheeks and head to the sides of face.
Alternative in mineral makeup – Wet application
If the condition of your skin requires stronger cover-up, you can obviously create this effect by using mineral cosmetics too. All that has to be done is change the application technique and instead of putting a mineral foundation to dry face, apply it wet. The most important step is spraying the brush with a right substance, which in this case is either floral distillate or thermal water. Basically, applying mineral foundation wet can be also done with the use of a cotton pad dampen with floral distillate – stamp your face with it. Undoubtedly, this technique is rather time-consuming because it requires pressing the cotton pad to face again and again, spot after spot. Moreover, despite providing high coverage, you must be careful not to create mask effect.