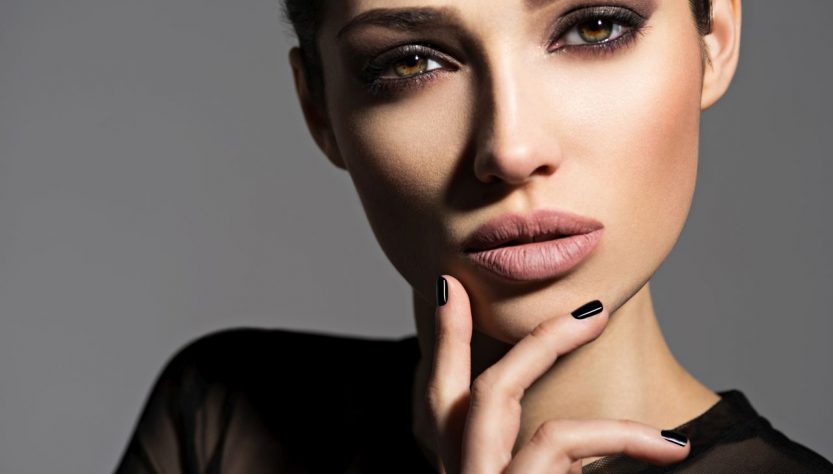 There's no proof that a face mask is a key to stop the spread of "you know what", obviously it is advised to always wear it. The only thing that is certain is that it can have an impact on your make-up. The foundation running down the face or such that stays on the mask? Smudged lipstick, badly looking lip contour? No, thank you. We have a method for the make-up to look awesome even with the mask on.
1. Get rid of sebum
Every good make-up starts with skincare and it's more important when you know that you will be wearing the mask. During the morning skincare avoid any extra oils for the skin. It applies mostly to the people with skin that has a tendency to shine and get oily, etc.
For this reason, you should switch up your thick oil-based moisturizing cream for light non-greasy moisturizing cream. The perfect match for this is face gel-cream. This type of formula will maintain the skin in the right condition and will prevent make-up from sweating under the mask.
2. Eye make-up before the base products
So that make-up can look flawless, you should start with eye make-up. Why? Because then the falling down eyeshadow will not cause the problem and you will provide your make-up with a good, long-lasting, and fresh finish and optimal durability – even when you need to wear the mask.
Keep in mind, that eyes are what you are showing to the world from under the mask. That is why you should work on your eye make-up, make sure that eyeshadows are applied nicely and that mascara makes eyelashes look beautifully.
3. Reliable foundation
It's the foundation that is essential to set the make-up in place and to provide a long-wear effect. As it turns out, the great appearance of the skin can also be provided by simple drugstore products. Rimmel Lasting Finish years later is still undeniably perfect. Another option for the perfect and long-lasting make-up is to add a drop of mattifying make-up base and apply it to the T-zone or in the areas that you know will be shiny.
Remember that highlighting the foundation can be the hot trend, but those will not go well with the mask. That is why you should use a foundation that has a long-lasting and mattifying formula.
4. Make it impossible for the sebum to ruin your make-up
This step supports liquid and creamy products. It holds them in place. To finish the make-up, just use some translucent powder or semi-translucent loose powder. It will hold the excess humidity and sebum at bay. Choose products with a natural composition and satin-like texture – thanks to it, the face will not be unnaturally matte and flat but healthy and mattified in a natural way.
5. Use fixer
So that make-up can look good all day long, fixer spray is necessary. Masks become a big part of our daily life so it is quite a big deal and important matter to fix make-up in the place with a light fixer. It is the one product that improves your make-up appearance and makes your make-up hold better. Make sure that in its composition are ingredients that improve the skin condition, e.g. aloe, hyaluronic acid, green tea.
6. Yes, you can wear lipstick
Wearing a mask does not necessarily have to mean that the part of the face that is covered should suffer from it. Go for waterproof lipstick that can hold for many hours under the mask. So that the lip contour stays intact, use also a high-quality lipliner. The lipstick should hold better under the mask if you apply some translucent powder to the lips.