Sensitive skin requires special care and attention. Few people know how to care for it the right way. You're about to know the secrets of a lovely, smooth face free of irritation, ruddiness or broken capillaries. Read the reviews of the best anti-redness face serums. Make the right choice!
There are three basic skin types:
It would be great if there were no other problems. Sadly, each of the three may come with extra issues like wrinkles (in mature skin), breakouts (acne-prone skin) or broken capillaries (couperose-prone skin). The last problem is the most tricky for sure.
Troublemaking couperose-prone skin
Couperose skin is super sensitive and gets hurt by many external factors including:
coldness or heat
spicy foods and hot drinks
alcohol, both in cocktails and cosmetic products
harsh detergents
sun exposure (UV rays)
hormonal imbalance
physical exfoliants
blood pressure changes
touching the face
You must keep attentive and watch your skin. Otherwise, you end up with irritations, flare-ups, and spider veins (dilated capillaries near the skin's surface).
What's the best skin care then?
To avoid that, you need the right skin care. Delicate skin requires gentle handling. It does need cleansing but it must be done in a way that doesn't cause irritations and dryness. So scrubs and harsh rubbing are the no-no! You must also remember to nourish, moisturize and repair it, doing it gently too.
It all comes down to one thing: sensitive, redness-prone skin requires suitable cosmetic products. While cleansing, go for mild gels or foams formulated without dehydrating SLS. When you moisturize, choose lightweight and non-greasy creams. If you need a skin-repair product, go for an anti-redness serum which addresses the needs of such skin type and is the only one to effectively reduce the bothersome irritations, redness, etc. You just need to pick the right one!
Anti-Redness Face Serum
What should a good anti-redness serum be like? There are a few things that you should consider. The most suitable serum for sensitive skin and broken capillaries should be:
light-textured and watery.
based on natural components.
alcohol-free.
formulated without synthetics.
rich in ingredients that strengthen weak capillaries.
absorbed fast.
non-comedogenic and non-greasy.
Shockingly, among tons of products, we've found just a few that fulfil all of the criteria and make a good choice for such demanding skin. Keep reading for the best anti-redness face serums, lightweight, gentle, and effective.
1. NANOIL ANTI-REDNESS FACE SERUM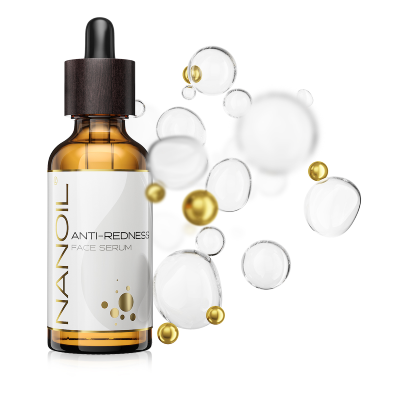 A number-one for couperose-prone skin and broken capillaries. This lightweight, water-based serum is free of any unwanted additives like phthalates, parabens or fragrances. Instead, it contains buckeye extract which seals blood vessels, increases elasticity and strengthens the capillaries. The formula is enriched with a powerful soothing, nourishing and revitalizing trio, extracts from linden, cypress and Boerhavia Diffusa. Thanks to them, the serum works on many levels, reducing redness, soothing irritation, repairing the skin and inhibiting broken capillaries. The first application brings relief while long-term use makes the face more elastic, smoother and younger-looking. It's the best anti-redness product for home use.
For more information visit – www.nanoil.co.uk
2. DIOR CAPTURE YOUTH REDNESS SOOTHER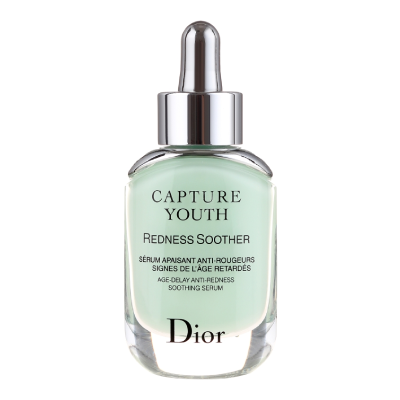 Capture Youth Redness Soother by Dior is another popular choice. The brand's fame attracts consumers, but it's the most expensive redness-reducing serum here. For a big price, we get a well-absorbed, gel-like serum which calms angry skin and prevents future flare-ups. Because it contains cotton peptides and antioxidant-rich iris extract, it strengthens, nourishes and repairs the skin. Regular use is a good way to restore skin's balance, cool redness-prone complexion and shield it against irritants.
3. LA ROCHE-POSAY ROSALIAC AR INTENSE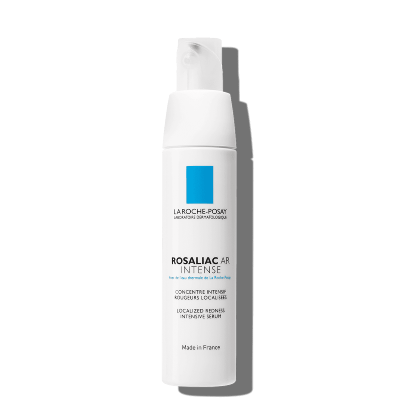 La Roche-Posay also offers a face serum for sensitive skin prone to redness. It's based on thermal water, infused into other products from the brand as well. The highly-concentrated formula contains soothing water as well as two innovative ingredients which lessen redness, soothe inflamed skin and prevent recurring irritations. Thanks to them, the serum calms the skin, makes red patches diminish and reduces burning sensation, strengthening and normalizing the skin. It's done gently without overburdening or greasy marks on the face.
4. EXUVIANCE ANTIREDNESS CALMING SERUM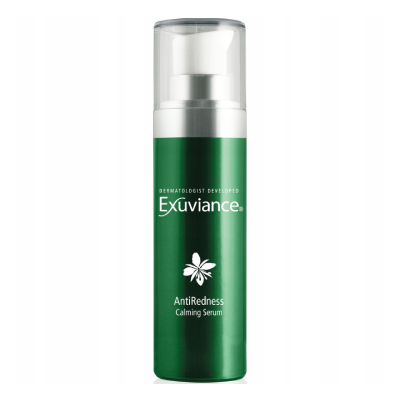 Antiredness Calming Serum by Exuviance is the highest in ingredients, including BHA/Bionic complex, anti-inflammatory TriPeptide-8, and natural extracts from buckeye, marine algae, licorice, white tea and caffeine. Because the formula is highly-concentrated and cream-like, it's good to test it before buying – the product isn't cheap! The price seems fair, though. Exuviance Antiredness Calming Serum eliminates inflammation, constricts blood vessels and evens the skin tone. In other words, it fights all problems of reactive skin.
5. SKINCEUTICALS REDNESS NEUTRALIZER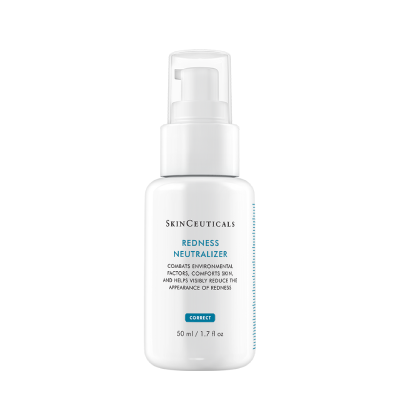 SkinCeuticals Redness Neutralizer is another serum designed for sensitive, rosacea-prone skin and broken capillaries. This lightweight, cream-gel has a soothing effect, but also strengthens the skin's barrier, lessens redness and hydrates dry skin. A blend of neuropeptides (called NeuroMed Complex) is its major component which fights inflammation, reducing dilated capillaries. Extra ingredients like zinc or shea butter alleviate irritated skin, nourish and repair it. It's a good choice if you're looking for an advanced product.
6. BE THE SKY GIRL KEEP CALM SERUM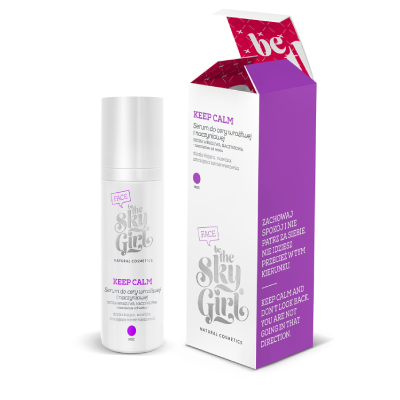 Face redness or broken capillaries affect people no matter the age. Be The Sky Girl made a face serum for teenagers. This cream-like formula is based on botanicals like extracts from buckeye, grapes, coconut, arnica, comfrey, ivy and witch hazel. The rich formula means a wide range of effects for rosacea-prone or sensitive complexions. It acts as an antiaging antioxidant, repairs, prevents inflammation and strengthens, so it helps get a lovely face back.
7. IWOSTIN CAPILLIN SERUM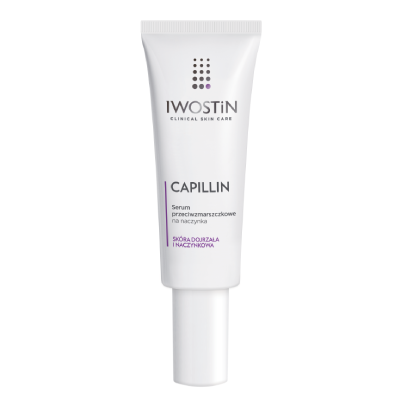 When it comes to products dedicated to rosacea-prone skin and broken capillaries, this cream-like serum from Iwostin is another good choice. It's much cheaper and rich in innovative substances that ward off skin irritation and facial redness. Vitamin C is infused into the formula to give an extra brightening and antiaging effect. Iwostin Capillin Serum has been specifically made for rosacea-prone and mature skin because it soothes as well as counteracts wrinkles and rejuvenates problematic complexion.