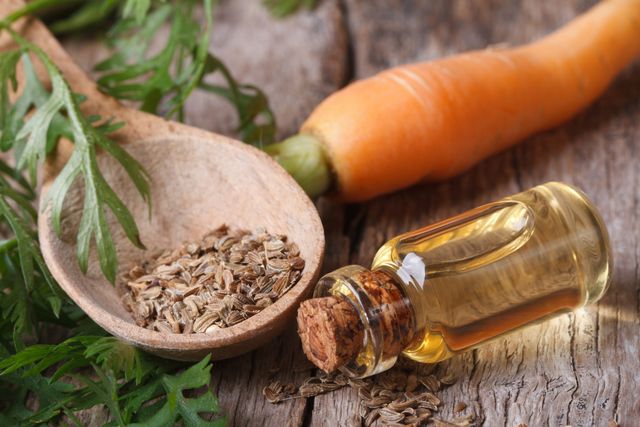 Carrot seed (INCI: Daucus Carota Sativa <<Carrot>> Seed Oil) oil is really something. It has a vivid orange colour and a really characteristic smell that many people find intriguing and appealing. It stands out among other cosmetic oils due to its high concentration of beta-carotene and nutrients known for improving hair and skin. Here is how to use carrot seed oil.
Who is carrot seed oil good for?
Owing to its soothing effect, carrot seed oil is good for sensitive, dry and irritation-prone skin. This orange cosmetic oil can be also used to take care of mature skin to deal with first signs of ageing (e.g. sagging). It's neither heavy nor comedogenic which means that it can be applied to oily skin that produces too much sebum and shines uncontrollably. Interestingly, carrot seed oil brings relief to sunburn and scalded skin, as well as it reduces various types of pigmentation spots. It's widely recognized for being able to protect skin from adverse weather conditions such as strong wind, scorching sun, freezing temperatures and even UV light.
Benefits of carrot seed oil
repairs skin
replenishes water to dry skin
soothes and calms irritated skin
helps reduce wrinkles
slows down ageing
evens skin tone
has an anti-inflammatory effect
What is hidden in carrot seed oil?
What substances made carrot seed oil so exceptional? Firstly, it's a rich source of the above-mentioned beta-carotene. Additionally, this naturally-derived cosmetic oil brims with vitamins A, E, B1, B2 and C. Stearic acid, linoleic acid and palmitic acid are the top three acids that dominate among other acids found in carrot seed oil.
How to get the most out of carrot seed oil?
One of the most common uses of carrot seed oil are to prevent hair splitting. You can also apply a portion of the oil to the hands instead of using a regular hand moisturizer, rubbing it into the nails too. Owing to a high B-group vitamin content, this orange cosmetic oil makes a perfect replacement for various conditioners used to improve hair and nails. Apart from that, you can spread carrot seed oil over the face, neck and chest, always when you don't feel like using regular creams designed for these skin parts. Those who like DIY cosmetics can reach for carrot seed oil to produce their customized home face clay masks. Being rich in beta-carotene, carrot seed oil offers an all-natural alternative to commercial self-tanners. Finally, it also serves well as an after-tan cosmetic.
What do users say about carrot seed oil?
Most users say that carrot seed oil is a perfect summer cosmetic. Not only does it soothe and care for tanned skin but also brings out the natural shade of suntan. Some women like adding a few drops of carrot seed oil to face creams and body balms. It's also recognized for nourishing dry and damaged hair ends.