Eyebrow pencil is an absolute hit in the world of beauty! It allows you to easily enhance your natural beauty and give your eyebrows an amazing look. It is often said that "eyebrows are the frame of the face" and it is absolutely true! Eyebrow pencil is the perfect solution for anyone who wants to draw attention and look super fashionable without spending hours in front of the mirror. But which brow pencil to choose?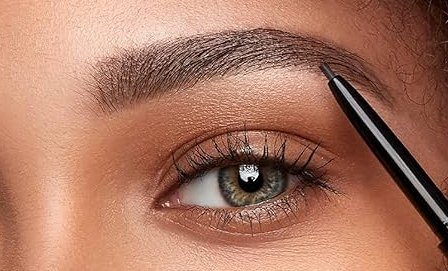 There are different types of eyebrow pencils available on the beauty market, and they all have their pros and cons. Before choosing one, it's worth considering what kind of effect you want to achieve and your requirements in terms of durability, shade, and shape. Discover the Top 6 ranking of the most popular brow pencils and find out which is the best!
Nanobrow Eyebrow Pencil
Rare Beauty Brow Harmony Shape & Fill Duo
Benefit Goof Proof Brow Pencil
Fenty Beauty Brow MVP Ultra Fine Brow Pencil & Styler.
Anastasia Beverly Hills Brow Wiz
Charlotte Tilbury Brow Cheat
Popular brow pencils – Top 6 Ranking
1. Nanobrow Eyebrow Pencil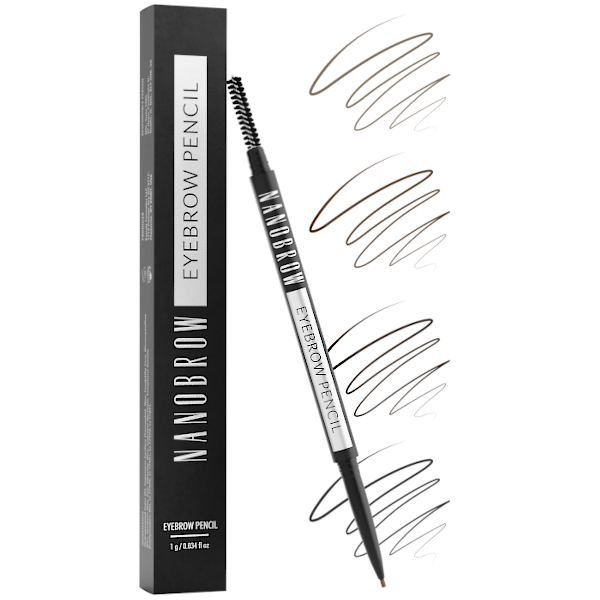 Nanobrow's brow pencil quickly conquered beauty blogs. Influencers fell in love with it so the product gained considerable popularity online. It's all thanks to the extremely precise tip, which can be used to draw individual hair-like strokes, waterproof formula, and great durability. What is worth knowing about Nanobrow brow pencil?
✔ Ultra-thin retractable tip – this is one of the most precise pencils available on the market. Its thin tip allows you to draw individual hairs, and it does not break or crumble at the same time. The retractable tip does not have to be sharpened so it's always ready to go and just as precise every time.
✔ Pleasant formula – it is highly pigmented, but at the same time gives the impression of naturalness. It allows you to gradually build up the coverage and control the intensity of the color.
✔ Waterproof – the waterproof and smudge-proof texture ensures long-lasting makeup that can withstand anything! A bid night out, a trip to the beach, or a workout at the gym? With Nanobrow brow pencil, no situation will surprise you. You won't have to do touch-ups or worry about your eyebrow makeup smudging.
✔ Professional quality – Nanobrow's eyebrow pencil is a product often chosen by professional renowned makeup artists. It's a product that is sure to surprise you with its quality, plus it comes at a great price!
2. Rare Beauty Brow Harmony Shape & Fill Duo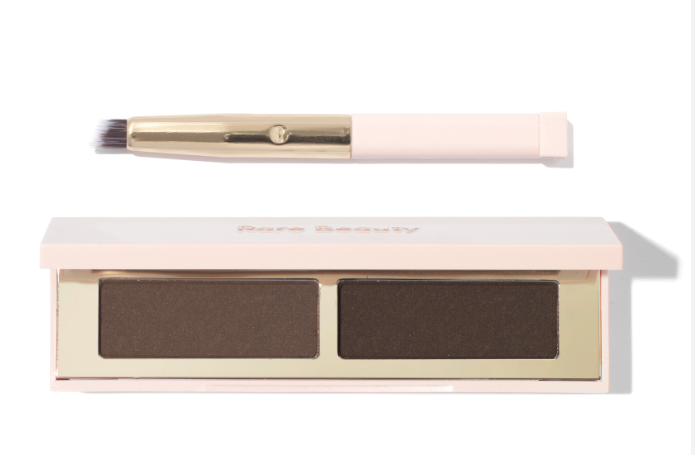 The Beauty Brow Harmony Shape & Fill Duo is an eyebrow styling product offered by the new brand Rare Beauty, founded by actress and singer Selena Gomez. What did this brow pencil surprise us with?
✔ 2-in-1 – this eyebrow pencil has a double-ended design. At one end there is a slanted brow pencil, and at the other, there is a mini eyebrow gel in a color similar to the shade of the pencil, which allows you to brush the brows and fix their shape.
✔ Easy to use – Rare Beauty's brow pencil is designed to make sure you can precisely fill in and define the brows. The double-ended design makes it an easy-to-use tool even for beginners.
✔ Eyebrow care – the formula of this popular eyebrow pencil contains several ingredients that help condition your eyebrows and keep them moisturized.
✔ Natural finish – Brow Harmony Shape & Fill Duo aims to provide a natural finish to your eyebrows. You can build up the coverage of the product for a softer effect or increase the intensity for a more "dramatic" bold brow look.
3. Benefit Goof Proof Brow Pencil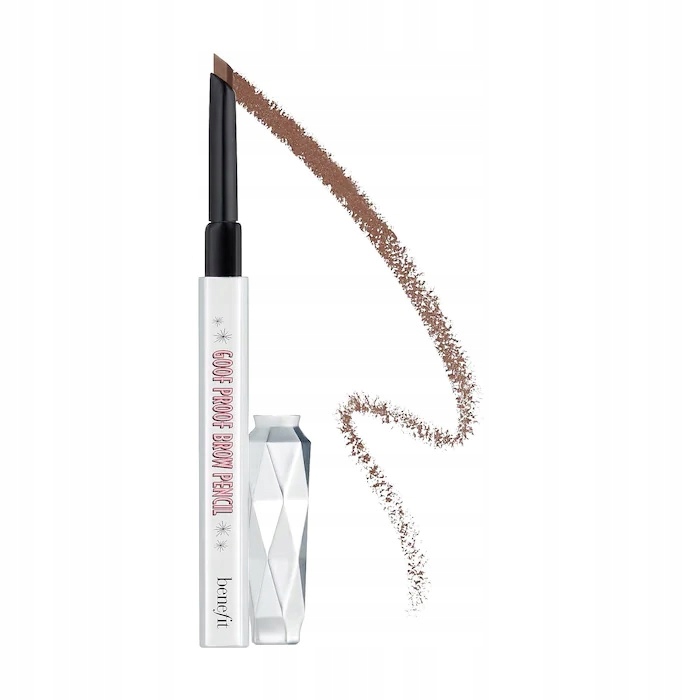 Benefit Goof Proof Brow Pencil is a frequently chosen makeup product offered by this popular brand. Due to its shape, this brow pencil can be quite tricky to use, especially if you want to fill in the arches precisely and add some hair-like strokes. Here is some extra information about this popular brow pencil.
✔ Design – Benefit's pencil features quite a convenient and practical design. It's a retractable pencil with a rotating mechanism, which means you don't have to sharpen it at all.
✔ As a dual-ended product, the pencil has two ends. On one end, there is the pencil itself, and on the other, there is a brush for separating and shaping brow hairs.
✔ Consistency and durability – the product has a fairly soft, creamy texture that can smudge slightly, especially if your skin is oily – despite being water-proof.
❌ Tip – the product comes with a slanted retractable tip, however, it is rather wide, which decreases the precision while drawing individual hairs and may not work well for owners of sparse eyebrows.
4. Fenty Beauty Brow MVP Ultra Fine Brow Pencil & Styler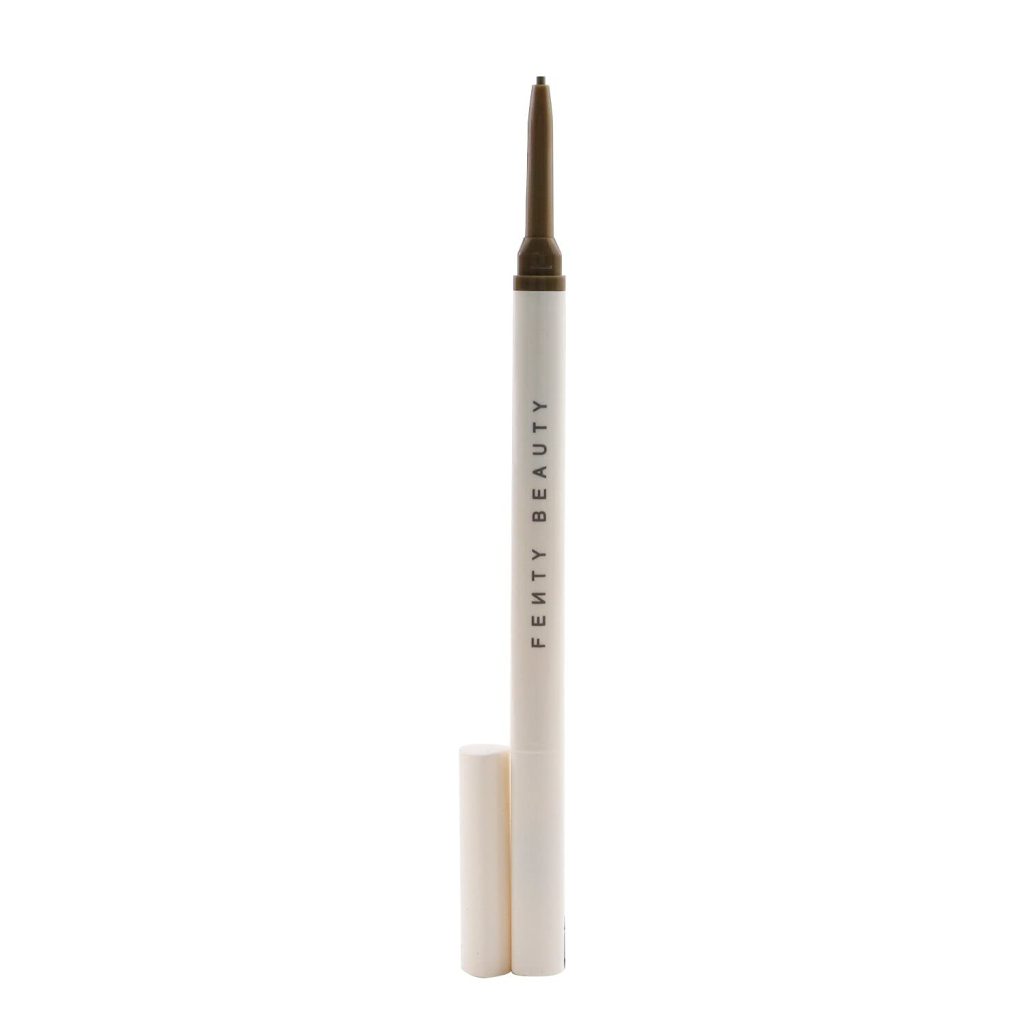 Fenty Beauty's brow pencil has been a real hit in the beauty world for some time now. Among its advantages, we can list the easy application, multiple shades to choose from, and its versatility. What do we think of it? Is it worth the hype?
✔ Packaging – Fenty Beauty's pencil features a slim design with a thin tip, which allows you to fill in your eyebrows precisely. At the other end of the pencil, there is a spoolie. Unfortunately, this popular eyebrow pencil disappoints with its small size – the thin tip runs out quickly, especially if you use it every day.
✔ Convenient application – Fenty Beauty's eyebrow pencil ensures you can precisely define and shape your eyebrows, both for a natural effect and a more defined look.
✔ Formula and shades – the product is available in a variety of shades to suit different eyebrow colors and skin tones. The formula is quite well-pigmented, but some may find it too creamy.
❌ Impractical brush – due to its specific shape and dense bristles, it's difficult to brush out the eyebrows with it decently, instead just smudges the previously applied pencil.
5. Anastasia Beverly Hills Brow Wiz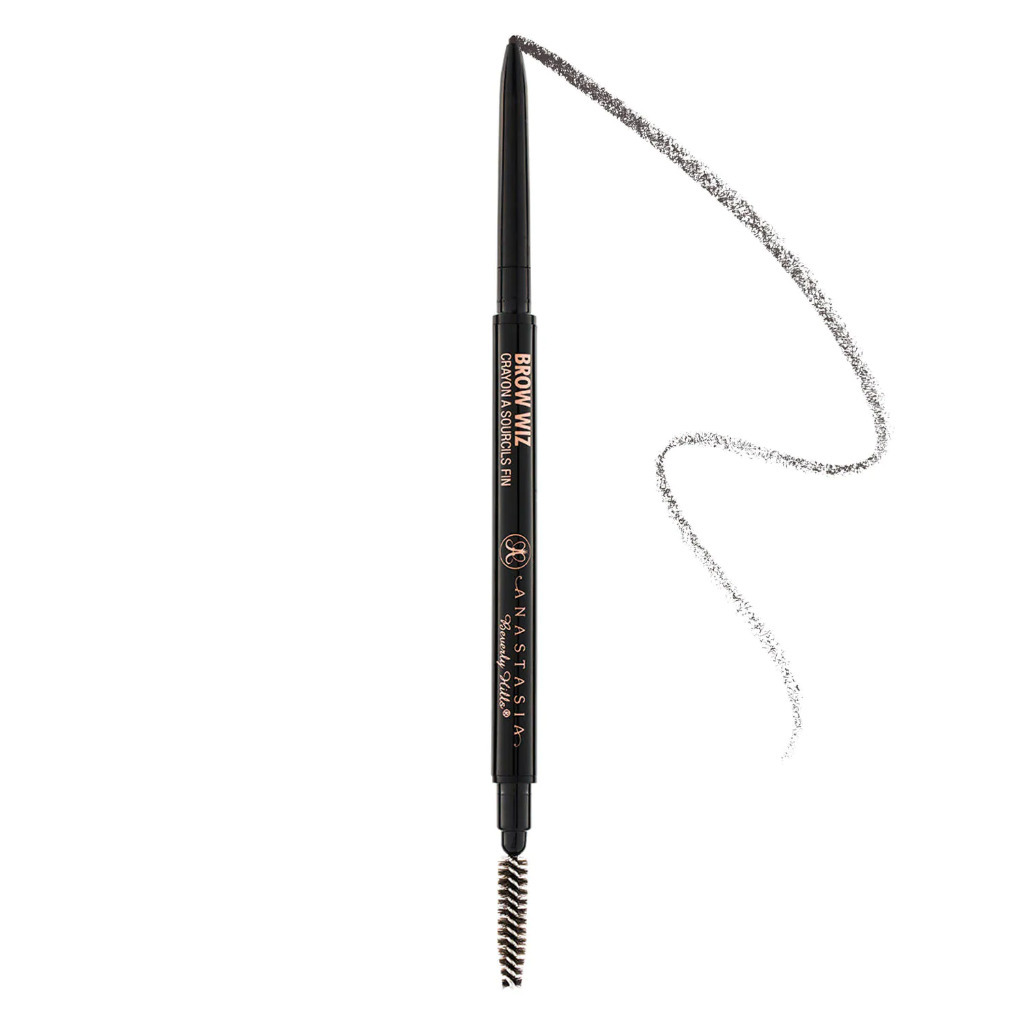 This ABH eyebrow pencil is sure to get the job done and make your brows look nice all the time. Plus, it's easy to apply thanks to the slim tip. The brow pencil from Anastasia Beverly Hills has gained a lot of popularity among many makeup lovers. Why?
✔ Shades – Anastasia Beverly Hills Brow Wiz pencil is available in a wide range of shades to match different brow colors and skin tones. You can easily find a shade that is closest to your natural brow color, or create a more defined effect by choosing a slightly darker option.
✔ Formula – Brow Wiz has a fairly creamy yet quite long-wear formula that can last up to several hours if you fix it well with, for example, a brow gel. It's easy to apply and allows you to fill in your eyebrows effortlessly.
✔ Design – thanks to the fairly thin tip, the Brow Wiz pencil allows you to precisely draw hair-like strokes for a natural look. The pencil has a double-sided design. The classic brush, which is on the other end, allows you to brush out your eyebrows and distribute the product evenly.
❌ Breaks easily – unfortunately, when the pencil is pressed harder against the skin, the tip tends to break and crumble easily. Or maybe we ended up with a defective product?
6. Charlotte Tilbury Brow Cheat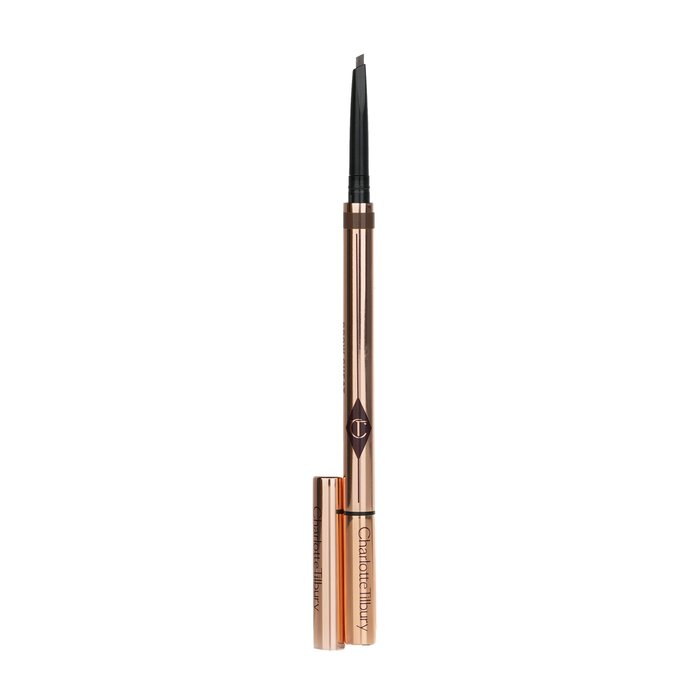 There is no doubt that the Charlotte Tilbury Brow Cheat eyebrow pencil is a very popular product. With its classic design, this pencil suits many eyebrow looks, both for everyday and evening wear. Check out what you should know about it before buying it.
✔ Shades – the eyebrow pencil is available in different shades to match different brow colors and skin tones. You can choose a shade that is closest to your natural eyebrow color or opt for a shade that will give your eyebrows a more defined effect.
✔ Finish – provides a natural finish to your eyebrows. You can build up the coverage for a softer or more intense effect, depending on your preference.
❌ Tip – it is quite firm, and because of the slightly drier consistency of the pencil, you need to press it harder against the skin to bring out the depth of color.
❌ Lack of brush – unfortunately, this eyebrow pencil does not have a built-in spoolie.
If you're looking for a good brow pencil, we recommend testing different options and choosing the one that best meets your needs, or simply check out our eyebrow pencil ranking! Perfectly defined arches are an important part of our face and it's worth taking good care of them, especially if you like to experiment with your makeup!