If you're into makeup trends, surely you're familiar with the term soap brows. It's a way of eyebrow styling using soap – the method was popularized by Hollywood celebrities in the 90s, but it's becoming trendy once more. Nanobrow Eyebrow Styling Soap lets you create an incredible brow makeup look with minimum effort!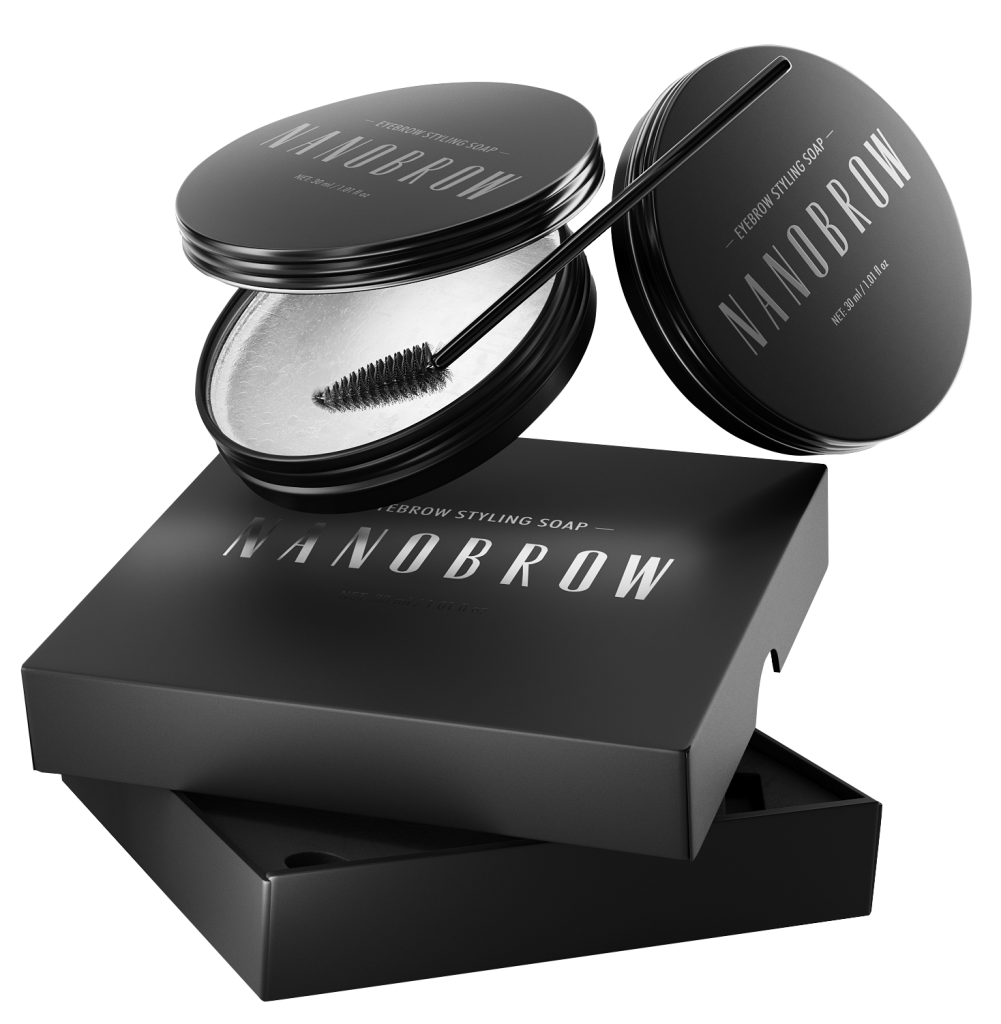 Dreaming of thick, full brows and perfectly separated hairs? It's really simple with the Nanobrow soap. It's packaged in a small, convenient container, works without the use of water, and holds brows in place all day long.
Nanobrow Eyebrows Styling Soap – the best brow makeup product
Lightweight, gel consistency doesn't weigh the hairs down. It provides the best results, guaranteeing that it will become your favourite brow makeup product from the first use! You can style them the way you like! Simply apply a small amount of the soap onto the ergonomically designed spoolie and brush through the hairs until they're perfectly-shaped.
Do perfect arches seem unattainable to you? Styling Soap works fine with thin, sparse eyebrows as well as thick and unruly ones. It will take care of your arches, give them definition and bring out your eyes, too.
Shape your brows in a unique way
Is brow mapping your least favourite step of everyday makeup? It doesn't have to be this way! With Nanobrow Styling Soap you can become your own professional stylist so your brows can look perfect all the time, even without any makeup!
The soap can be used alone, giving astounding effects, or as a base for other brow makeup products. If you feel like trying something a little different than brows filled in with a pencil, powder or a pomade you're in the right place! The Nanobrow product will style your brows in a moment, so you can use your precious time doing other things.
Beautiful brows in just a few simple steps with Nanobrow
Apply a small amount of the soap onto the brush,
Brush the hairs until the brows are in the desired shape,
Enjoy a beautiful and natural eyebrow look.
Surprised it's that simple? Makeup shouldn't be tricky! With Nanobrow Styling Soap taming unruly hairs won't be a challenge to you anymore. Thousands of happy users are satisfied with its unique preciseness, long-lasting effects, comfort and ease of use.
You too will appreciate this remarkable product if you want to emphasize your light eyebrows. What's more, if you struggle with bushy, unruly brows where the hairs grow in different directions – you will love it as well. It's a real brow makeup expert that will intensify the depth of your gaze.
What else do you need to know?
No product sets the brows as well as Nanobrow Eyebrows Styling Soap! It's a way for perfectly-shaped brows that will become visually fuller and thicker. It's not irritating to sensitive skin and doesn't cause redness around the eye and brow area. Nanobrow ensures that the arches of your brows won't look overdrawn or exaggerated, but rather have an amazing, natural shape, and maximum volume.
To define your brows better, it's recommended to use another Nanobrow line cosmetic. Use Styling Soap as a base only, which will provide a three-dimensional effect. Nanobrow products are created to take excellent care of your brows so they can look their best!
Nanobrow Styling Soap has been designed with every brow type in mind. Choose an expert when it comes to brow styling and enjoy flawless arches all day long!