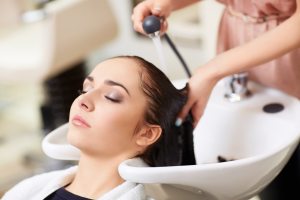 If your hair is dry, brittle, damaged and with split ends, you must do something to improve its condition as soon as possible. A trim? No way! Just regenerate it. Apply a treatment with liquid keratin, and you will see the effects immediately. How? Let's start from the beginning. 
Keratin – what is it?
Keratin is a protein that is part of hair, skin and nails. If you suffer from a shortage of this ingredient, then you probably have problems with your hair. The strands are weak, easily crumble, break and fall out, and their ends are split. In this case, the best solution is to supplement the deficiency of keratin by using products containing liquid keratin. You will find it, among other things, in some hair conditioners. What's more, liquid keratin will improve the condition of the skin and nails.
Properties of keratin
Keratin is the building material of the hair shaft, i.e. the hair cortex. The keratin fibres are connected with each other by bonds responsible for the elasticity of the hair. Keratin is also found in the coating of the hair, thanks to which it affects its gloss. Its deficiency results in the opening of hair scales and splitting of the ends of the strands.
Hydrolyzed Keratin – what is it?
Hydrolyzed keratin is a water-soluble protein that is obtained during the hydrolysis of sheep's wool. The composition of this protein you will find amino acids similar to those that appear in human hair. The pure form of liquid keratin is a clear liquid with a yellowish or brown shade with a characteristic scent. If you apply hydrolized keratin to your hair, it will penetrate it deeply and bind with proteins contained in the deeper structures of the strands. The substance provides regenerating, strengthening and protective effects. Keratin can be applied to the hair in the form of a conditioner, a mask or shampoo. Such ingredient is worth using after getting perm, straightening, bleaching or colour-treating.