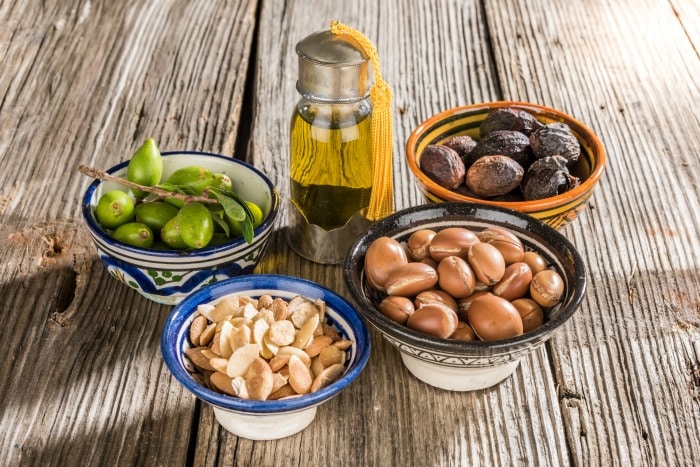 It seems like a regular oil. However, the inconspicuous nuts from argan tree consist of a miraculous force that is passed on to this golden oil. If our skin and hair – especially weak due to styling – require proper support, then natural Argan oil will be the best solution. WHY?
The Moroccans produce two types of Argan oil. One of them is definitely darker and used mainly in the kitchen because it has a nutty flavour that enhances meals. The second one is the cosmetic one extracted by cold-pressing. Its colour is lighter and it is a result of not roasting the seeds beforehand.
In cosmetics, Argan oil works as a rejuvenating treatment for the skin and hair. The substance consists of a high volume of the precious E vitamin and omega-6 and omega-9 unsaturated fatty acids. They are in particular, responsible for fighting free radicals and protecting from temperature and the sun.
The all-natural composition of Argan oil makes us willing to reach for it when it comes to mature skin care and when struggling with various hair problems. Argan oil:
replenishes the shortage of lipids in the hair and skin protective coating,
works as a protective shield against harmful external factors,
provides anti-inflammatory properties and soothes irritations.
Furthermore, it is extremely important how to use Argan oil. There are two ways, each of which has both advantages and downsides. Argan oil can be used on its own – apply directly to the skin and hair, to replace a mask, for instance. What is more, it is the go-to substance to use for a warming massage, this way it is better absorbed. However, in regard to the popular hair oil treatment, Argan oil works better after combining it with other natural oils that are matched to the specific hair type. Also, it is worth mentioning that regular use of Argan oil is the key to success. Only then, the hair will be fully nourished and regenerated.