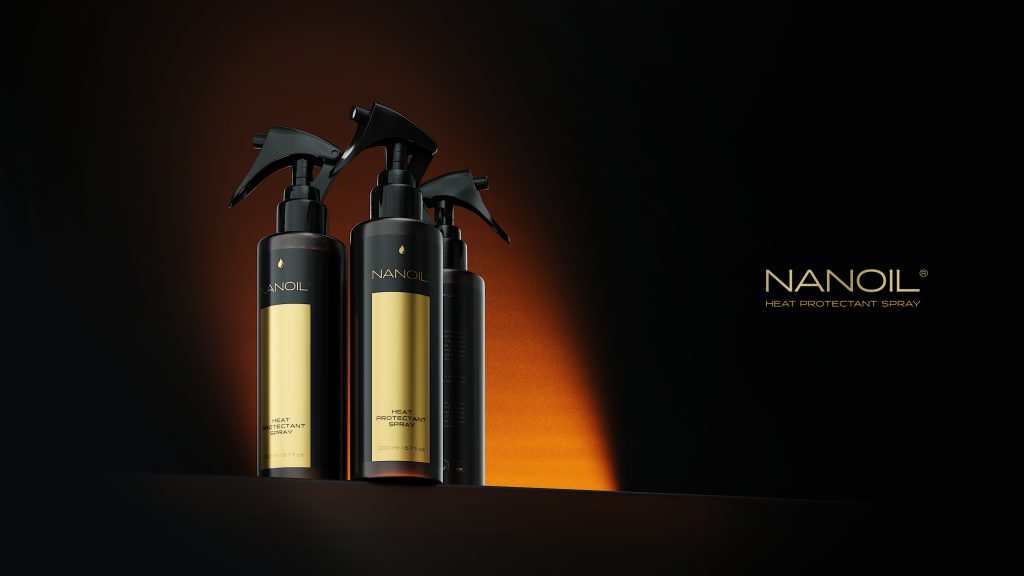 Are you concerned about harming your hair due to blow-drying or straightening? Well, this is highly possible to happen but luckily it's not inevitable. There is an easy-to-follow way to protect the hair from the negative effects of high temperatures. What's that? It's the Nanoil thermal heat-protectant spray.
It doesn't really matter what type your hair is – short or long, fine or thick, straight or curly. It's prone to heat damage in the exact same way.
Two sides of heat styling
Most common hair problems are triggered by our unawareness, ignorance, or simply by the lack of styling skills. Heat styling itself has two sides – good and bad. Are you sure you know which is which?
On one hand, heat styling is uncomplicated, faster and helps you achieve truly impressive results. It's way easier to get lovely waves using a curling iron. It's quicker to dry the hair using a hair dryer. Finally, it's less troubling to get sleek hair using a flat iron. These are the biggest advantages of heat styling that make us reach for styling tools often.
On the other hand, heat styling can have disastrous consequences. High temperatures cause damage in hair, contribute to losing moisture and break apart keratin bonds, causing brittleness. That's why using the dryer or straightener too often leaves you with dry, frizzy and splitting hair.
How can you protect your hair from high temps?
The disastrous effects of exposing hair to high temperatures can be significantly minimized due to the right products. That's actually the easiest and most effective way to enjoy stunning hairdos without risking heat damage. Indeed, you don't have to give up on blow-drying or straightening as long as you make use of effective heat protection.
Nowadays we are blessed with a wide choice of options: plant oils, hair mists, hair balms and conditioners. However, hair specialists agree that among all such products, the heat protection sprays give the best results. They are super easy to use – that's obvious. But what makes them really amazing is the fact that they isolate hair from the aggressors without depriving the hair of volume.
Now we need to find out which heat protection spray is the best. As you may have already guessed, we know the answer to this question!
Thermal heat-protectant spray from Nanoil
If your goal is to provide your hair with 100% heat protection, grab the thermal heat-protectant spray from Nanoil.
Nanoil Heat Protectant Spray is a lightweight, water-based product whose mist-form guarantees effortless application. Each drop of this product contains silk proteins and vitamins that together minimize the negative impact of high temperatures, at the same time taking care of the condition and appearance of your tresses.
Provides up to 220/440 degree heat protection.
Counteracts moisture loss.
Smooths hair's surface and combats tangles.
Prevents brittleness and splitting.
Increases hair elasticity.
Adds healthy glow.
How does the Nanoil thermal protection spray work?
Nanoil shows us that keeping the hair safe during heat styling is neither time-consuming nor difficult. Just spray the hair with the product before blow-drying or using a flat/curling iron. No matter if you apply Nanoil Heat Protectant Spray to damp or dry hair, you can always be sure that your strands receive adequate protection.
It's also worth pointing out that Nanoil Heat Protectant Spray is a leave-in cosmetic. Its texture is weightless so it doesn't weigh down hair. This also means that the spray doesn't leave your hair looking greasy or clumped.
You too can try it!
If you think that you can go without a heat protectant spray, then let us explain why changing your mind on that issue may turn out to be beneficial. The thing is that no matter the hair type, you can use thermal heat-protectant spray to take care of and protect your hair. Nanoil Heat Protectant Spray is designed to serve all hair types. Every hair deserves to receive the best form of protection that only Nanoil spray provides.