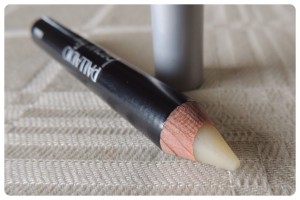 Despite that spring/summer 2015 season promotes natural and ragged eyebrows style, still there are the women valuing order and discipline. For this women in particular Givenchy brand created permanent eyebrow fixing pencil, Mister Eyebrow. How does this product really work?
At the first sight, Mister Eyebrow – Fixing Pencil from Givenchy is rather short and thick. On the one side, this can hamper application and the convenient holding of the cosmetic. On the other side, this compact size of Mister Eyebrow enables putting the pencil either into a make-up bag or a purse and taking it with us wherever we would like to go. What is more, Mister Eyebrow is transparent, due to which, after styling our eyebrows we can uneventfully apply eyebrow liner or other eyebrow shadows. Additionally, Givenchy cosmetic has a consistency easing eyebrow stylization and keeping unruly hair under control. Moreover, thanks to Mister Eyebrow our eyebrows are going to be moisturised, shiny and nourished.
How to use Mister Eyebrow – Fixing Pencil from Givenchy. First of all, adjust the shape of your eyebrows and make these match your face and eyes. Do you know that changing the colour of your eyebrows is possible? For example, applying henna is one option. The other solution is undergoing permanent make-up treatment. If you are a person who has the hair dyed, ask a hairdresser to also dye your eyebrows. This kind of look is going to be cared-for in every detail. Now, when the shape of your eyebrows is adjusted, it is time for styling. With short and sharp movements of Mister Eyebrow, do the eyebrows in such a way, to make these corresponding with their direction of growth. At the end, colour the eyebrows with a brown or black eyebrow pencil. All that left, is painting eyelids and mascara your eyelashes. Remember, eye make-up has to be colour-coordinated with eyebrows.