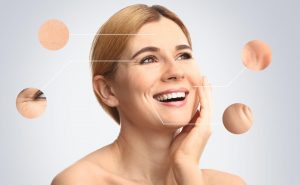 Ready for a no-knife facelift? If you suffer from fear of needles, skin-firming botox-mimicking creams make a good solution. What should a good face-lifting cream be made of? Check an effective weapon to fight the passage of time.
Antiaging routine is a top topic among women all over the world. We've got more and more possibilities and are able to effectively counteract premature aging. Though botulinum toxin injection is like a regular facial nowadays, there are some people who are afraid of such invasive procedures.
Botox. Should it cause our fear?
Simply put, there are botox supporters and opponents. We should know both sides.
Botox fans highlight it's the most common and effective way of lessening face lines. It's a lunchtime procedure which gives fast results. Not only does it make skin smoother and firmer but also helps fight chronic headaches!
The opponents point out that (as the name suggests) botulinum toxin is a toxic substance which paralyzes treated parts of muscles. The procedure is pricey, the effect isn't long-term so you need to see a pro on a regular basis. Still the worst thing is an incorrectly adjusted dosage, botox "overuse" or wrongly injected botox – this leads to limited ability to move the face and very unnatural appearance.
Botox-effect creams
If you're afraid of side effect of botox injections, give face-lift creams a go. They appeared a few years ago but they didn't use to enjoy big popularity and were a bit pricey. Now they're easier to get.
Can a cream work like a botox? Of course! It just can't be an ordinary anti-aging cream. The thing that makes botox-effect creams different from standard cosmetics is the composition – they are richer in intensively-working substances which really have a lifting effect.
Anti-aging or anti-wrinkle effect isn't the facelift creams' "job". They aim at eliminating blemishes that already exist on our faces and give our age away…
What do botox-effect creams actually do and what they're made out of?
Simply put, they belong to neurocosmetics and imitate the effect of botulinum toxin, with one exception – zero syringes necessary. This is thanks to innovative ingredients in the composition.
Spilanthol known as plant botox and extracted from Acmella oleracea is the most popular. Similarly to botox, spilanthol blocks movement of muscles and relaxes them, smoothing wrinkles on the forehead, around the eyes and lips. Plus, it stimulates production of collagen and keeps sufficient levels of moisture in skin.
Other ingredients in botox-effect creams include DMAE whose full name is dimetilaminoetanol as well as biomimetic peptides e.g. matrixyl. They act similarly to the above-said substances: relax the muscles, improve the skin's firmness, give a gentle facelift effect.
TOP BOTOX-MIMICKING PRODUCTS
If you would like to test the effect of neurocosmetics (botox-like creams) on your own skin, take a look at my top four:
Algenist Targeted Deep Wrinkle Minimizer
L'Oréal Paris Dermo-Expertise Wrinkle Decrease with Boswelox Night
Vichy Myokine Intensive Anti Wrinkle Care
Yonelle Trifusion Botulin Cream-Concentrate
How about a vitamin C face serum?
Products featuring ascorbic acid (i.e. vit. C) have a similar effect to botox-mimicking creams.
A quality serum rich in vitamin C is a coveted skin care product these days because of amazing conditioning and antiaging effect on skin – it stimulates synthesis of collagen and elastin, triggers cellular renewal, firms up skin, lessens hyperpigmentation and even smoothes fine lines. It deals with a full range of aging symptoms, and thus it is likely to enhance the appearance of the skin without the knife or syringe!