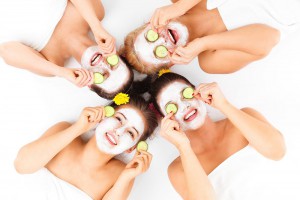 Instead of reaching for expensive creams, it is better to use a homemade aspirin mask. One inconspicuous tablet contains many valuable ingredients that make it a great cosmetic for acne, cold sores, blemishes, blackheads and others. Discover what amazing properties it has.
Many skin problems can be solved by homemade methods, but very often, due to the convenience, we reach for ready-made cosmetics. For many people, an aspirin mask may seem a too simple solution. Mostly, we are afraid that the homemade recipe will not be as effective as a cosmetic prepared by specialists and sold in the drugstore.
And here comes the surprise, because the aspirin mask has an effect comparable to a professional acid treatment. For many generations, women have based their skin care on aspirin, and today, not without reason, it returns to favor.
What properties does aspirin have?
Usually, we reach for it when we catch a cold. Aspirin fights fever and relieves pain. But in fact, the acetylsalicylic acid contained in it, has not only anti-inflammatory properties. Here are five less-known properties of aspirin, which can be useful in everyday care:
Aspirin reduces the visibility of spots and discoloration.
Aspirin stimulates the removal of dead skin cells.
Aspirin supports acne treatment.
Aspirin cleans the pores, eliminates blackheads.
Aspirin gives the skin a youthful appearance.
Aspirin for acne 
Why does it work? It has anti-inflammatory properties, so it relieves all inflammations that appear along with acne breakouts. As a result, the inflammation decreases and the blemishes do not spread to other areas of the skin. At the same time, aspirin has antibacterial properties, eliminating the majority of bacteria that cause skin problems. It protects against the appearance of subsequent changes, supports the exfoliation of dead skin cells and accelerates the healing of post-acne scars. No wonder that salicylic acid, from which aspirin is produced, can often be found in the composition of cosmetics and acne medications.
Warning! Aspirin in large quantities, which is used too often or in excess, can dry out the skin. It is better to use it as a spot treatment or combine it with ingredients that have a soothing effect, so as not to irritate the skin in places where it is thinner and more sensitive.
Aspirin mask – the best recipe
To do the mask, you will need:
4 aspirin tablets,
a teaspoon of water or hydrolate,
a teaspoon of natural yogurt,
a teaspoon of lemon juice.
How to prepare your own face mask? Aspirin should be finely crushed and mixed with the remaining ingredients to make the whole a thick dough. The addition of natural yogurt will alleviate any irritation, while the lemon will lighten the skin. Do not worry if the aspirin is not crushed well enough – any particles will work like an exfoliating scrub when washing the face.
How to use an aspirin mask? It is possible to apply the prepared mixture to the whole face, but it is recommended to use this homemade cosmetic as a spot treatment. After applying the mixture, wait 10-15 minutes for it to work on persistent acne lesions. At the end, wash it down with lukewarm water, although a gentle skin massage can be done beforehand to peel off dead skin cells and smooth it out. It is worth remembering not to overuse at-home treatments with aspirin. Such a mask can be done no more than once a week.
What to add to the aspirin mask to make it even more effective? The recipe can be freely modified according to your needs. The base is crushed aspirin mixed with a little water. Feel free to use your favorite oil if you prefer it, instead of a hydrolate. The mask will be thicker, but the oil will add its valuable properties. A spoonful of honey thrown into the mixture will moisten the skin, and a drop of essential oil will enhance the action of aspirin and give the mask a beautiful fragrance.