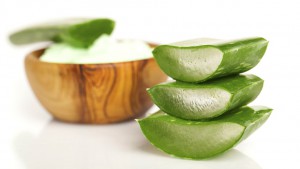 Aloe vera has astonishing beauty benefits so its uses in beauty care are numerous and impressive. It is available in pure form or in form of extracts. Learn about the properties and uses of Aloe.
Aloe extract – beauty benefits
Aloe and its extract aim at moisturising, soothing irritations, brightening discolored skin and reducing itching. Moreover, it prevents bacteria and fungi. Aloe owes its wonderful qualities to the ingredients such as vitamins A, B, C and E, organic acids and minerals salts, mostly potassium, calcium, phosphorus, magnesium, copper and sulfate.
Too bad, even Aloe isn't flawless because it may cause allergic reactions. That is why you need to do an allergy test (e.g. on your wrist) before the first application. If no allergic reaction occurs within 24 hours, you can apply Aloe to larger areas.
Aloe – beauty uses
Aloe is a remedy for dandruff and splitting hair ends. What's more, it accelerates hair growth, facilitates brushing routine and – as a humectant – delivers sufficient hydration. Aloe extract is added to anti-aging, skin-firming products because it synthesizes collagen, tightens skin, moisturises and stimulates the production of hyaluronic acid. It is a popular ingredient in protective lip balms, regenerating products for delicate lip skin affected by inflammation and sunscreens. Moreover, Aloe extract is included in moisturising body lotions, especially for extremely dry, sensitive and atopic skin.
Aloe in cosmetics – contraindications
Children and under-twelve-year-olds, as well as pregnant women, shouldn't use Aloe. Both Aloe and its extract contain anthraquinones which cause hyperemia in internal organs. That's why pregnant women who use Aloe must be aware of the risk of bleeding or even miscarriage.